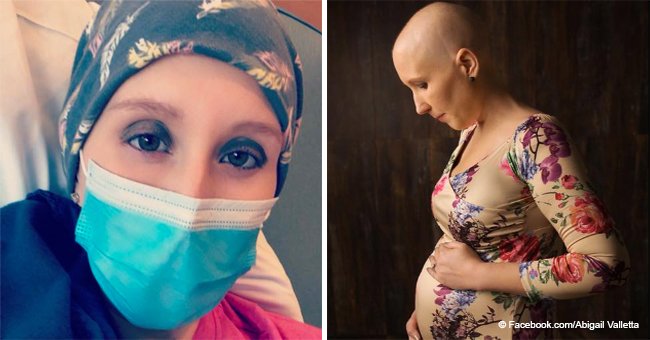 Inspiring story of a woman who learned she had breast cancer while 9 weeks pregnant

A mother of two, and pregnant with the third, discovers she has breast cancer after the doctors discarded reviewing a lump in her chest that turned out to be a tumor.
Abigail Valletta, of Clayton, North Carolina, called her lactation consultant after feeling something was wrong with one of her breasts. She was 9 weeks pregnant in April when she found a small lump in her right breast that looked suspicious.
"I thought I would mention it to my doctors and see what they think. But the first doctor told me that they were just changes in the pregnancy and that he should not worry about that," Valletta tells PEOPLE. "But I could not let it go. I kept thinking about it and I was not improving. It was hurting me."
The woman explains that her family doctor assured her that she did not have to fear breast cancer because her young age made it an unlikely diagnosis. The doctor told her to apply a warm compress to the lump and wait for it to deflate. Read more on our Twitter account, @amomama_usa.
Valletta went to another doctor to have a "second opinion" and discard any doubt, but they told her the same thing, that the bulge that she felt in her chest was simply the result of "changes in the pregnancy".
However, the mother of three children felt uneasy. "I was about to leave and I said, 'Could we just do an ultrasound to make me feel better? Just to reassure me,'" she recalls, so that's what they did.
Incredibly, Valleta's worries were confirmed, her worst suspicions were in the right direction. Just two weeks after finding the lump for the first time, doctors diagnosed triple-negative breast cancer.
After that news, she was desperate for answers. With two months of pregnancy until then, Valletta was relieved when doctors assured her that she could undergo chemotherapy treatment without harming her baby.
The brave woman underwent a mastectomy and continued with the chemotherapy treatment, taking a short break from the treatment for a few weeks to give birth to Madelyn Faith Valletta on September 29.
Now, Valletta is happy to have her baby at home and although her journey through health will be difficult, she will continue with chemotherapy. She has her last scheduled treatment for December, and she will undergo a second mastectomy and her ovaries will be removed in the coming months.
This story reminds us of the 29-year-old who died at the start of October, leaving her four-year-old daughter Penelope. Her story touched the hearts of thousands when it was revealed that she had to delay having chemotherapy during her pregnancy so Penelope could live.
Family and friends, including celebrated actress Kate Winslet, packed Accrington Cemetery to celebrate the life of the much-loved 'Rossendale girl' Gemma Nuttall.
Not just women are the ones that should be concerned about breast cancer and constant self-check-ups. A retired man from Indianapolis shared warning with other men after a mysterious lump on his chest turned out to be a cancerous tumor.
The man felt the bump in his breast and decided to consult with professionals. Luckily, his doctor considered the lump as seriously as he did. The bump above the nipple and only 3/4 inch wide turned out to be cancerous.
A mother of two, and pregnant with the third, discovers she has breast cancer after the doctors discarded reviewing a lump in her chest that turned out to be a tumor.
Please fill in your e-mail so we can share with you our top stories!