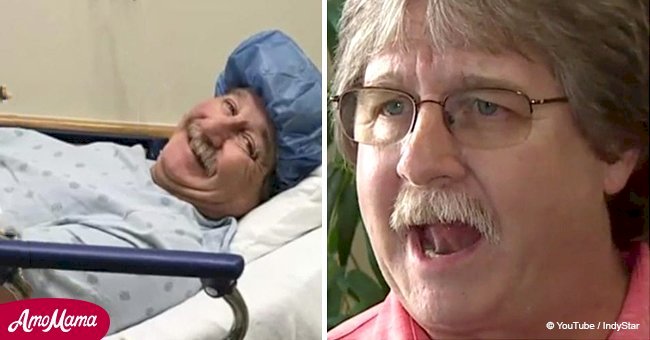 Man found a lump in his chest and it turned out to be breast cancer
Eric Passmore shared warning with other men after a mysterious lump on his chest wound up being cancerous.
In 2016, Passmore, 62, discovered a lump on his chest. The bump was located in his right breast.
"I told my doctor at the time I said I got this bump. I don't know what this is. And he felt it and he said 'oh, I don't like that,'" he told Fox 59.
The retired machinist's life was forever changed from that point on. Days later, he was told he had breast cancer.
Follow us on our Twitter account, @amomama_usa, to learn more and scroll down to watch Passmore's story in the video below.
"And he sent me for a mammogram. Now, when he said 'mammogram' my first words were 'You know I'm a guy right?'" Passmore said.
Luckily, his doctor considered the lump as seriously as he did. The bump above the nipple and only 3/4 inch wide turned out to be cancerous.
Passmore realized that his gender didn't exempt him from breast cancer.
The grandfather, who underwent a liver transplant 18 years ago, was prepared to go up against his next fight.
After undergoing a mastectomy and 12 weeks of chemotherapy, Passmore came out victorious.
"I'm here for a reason," he said. "I don't really know what that reason is yet but maybe this is part of it."
Now, Passmore wants to share his story with other men about knowing their body.
"Especially guys will tell me you can't have breast cancer, you're a man. I tell them I have a scar that says otherwise," he said.
Dr. Kathy Miller, the Associate Director of Clinical Research at IU Simon Cancer Center, stated that there are around 2,000 men in the United States diagnosed with breast cancer every year.
Dr. Miller wants men to be aware even if they don't have to get regular mammograms.
"But if they notice a lump behind the nipple or in the region of the breast that's not normal. And it's just as not normal in men as it is in women. They need to talk to their doctors about it and get it checked out," she said.
According to Cancer Center, some common breast cancer signs and symptoms include an increase in size or change in shape of the breast, changes in the appearance of one or both nipples, general pain in/on any part of the breast, and lumps or nodes felt on or inside of the breast.
Please fill in your e-mail so we can share with you our top stories!