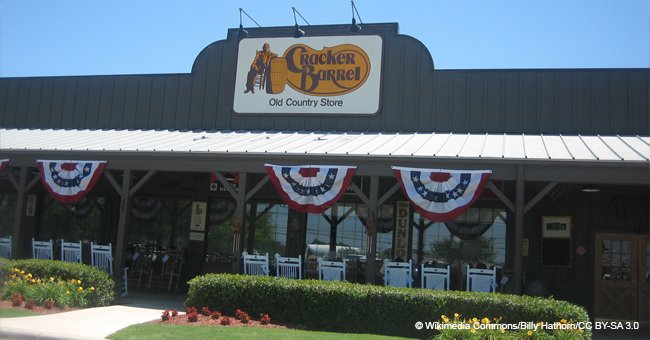 Cracker Barrel shows off amazing Thanksgiving dinner and it will only cost $11 per person
Cracker Barrel Old Country Store has the best Thanksgiving menu with all the trimmings.
For those who don't have the time - or perhaps the skills - to throw together a traditional Thanksgiving spread, help is at hand at the Cracker Barrel Old Country Store restaurant, reported Today.com on November 6, 2018.
It has been said that people eat more on Thanksgiving than on any other day of the year, but getting that banquet on the table takes a lot of work and preparation - sometimes days.
The perpetually harried modern-day woman hasn't the time to spend hours basting and roasting turkeys, baking pies or husking corn. So what is the solution?
ORDERING THANKSGIVING DINNER
Cracker Barrel Old Country Store has announced that this year they will be offering a special Thanksgiving menu for customers who would prefer to have their treats delivered cooked to perfection and ready to serve.
Thanksgiving dinners can be ordered at any Cracker Barrel and be picked up from November 17 to the 25th, for as little as $11 a head.
THANKSGIVING DINNER FOR THE WHOLE FAMILY
The prize Thanksgiving menu at Cracker Barrel is the "Heat n' Serve Holiday Family Meal To-Go" and it costs approximately $110 for a dinner for a family of 10.
A DELICIOUS FEAST OF JUICY TREATS
The menu includes two slow-roasted turkey breasts, traditional cornbread dressing, rich turkey gravy, cranberry relish, freshly-baked sweet yeast rolls, and a choice of three sides dishes.
SIDE DISHES A LA CARTE AND A SLICE OF PIE
The side dishes can be selected from a list which includes green beans, fried apples, hash browns, sweet potato casserole, macaroni and cheese, mashed potatoes, carrots, and corn on the cob. For an additional charge, a green bean casserole can be added to the feast which includes a pumpkin pie and a pecan pie.
Of course, for those who can't face washing the dishes, there is always the option of stepping out and having dinner with the family at the Cracker Barrel, though management has cautioned customers to phone in their reservations for Thanksgiving.
THE HISTORY OF THE CRACKER BARREL
But how did the famous country store get its name?
Back in 1916, every country store carried cracker barrels. Literally, these were wooden barrels filled with soda crackers.
It was common to see customers gathered around a cracker barrel for a chat, and the store's logo tells the story of the store's origin.
It shows a jolly man sitting on a rocking chair and leaning on a barrel of the legendary crackers. Today's customers no longer use cracker barrels as tables, but the food is as good and wholesome as ever.
Please fill in your e-mail so we can share with you our top stories!