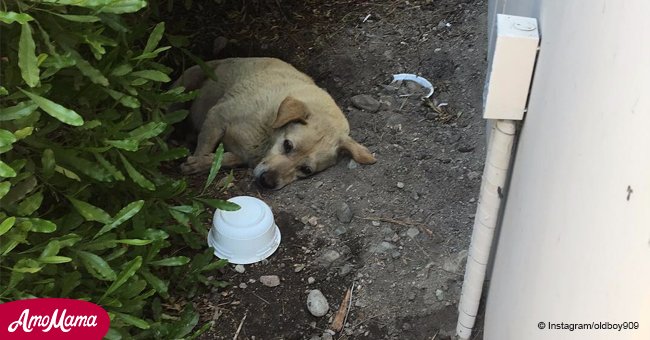 Dog spotted living in dirt after family abandoned him and moved away
There are millions of abandoned animals wandering the streets and Larry was one of them after his family left him behind when they moved.
The 8-year-old dog was abandoned, and with nowhere else to go, the poor pooch made the parking lot of a landscaping business across the street his home.
Luckily, good-hearted people were able to rescue him after he spent months living and sleeping in the dirt. Now he even has his own Instagram profile but he's still looking for a forever home.
Follow us on our Twitter account @amomama_usa to learn more.
Back when he was out on the streets, Larry depended on the goodwill of passing truckers, who would occasionally toss him something to eat or drink.
One day, one of those truckers, whose identity is yet to be revealed, set up an Instagram profile named 'oldboy909' for Larry in hopes of finding someone to help him. Fortunately, Larry's story reached Sasha Abelson, the president of Love Leo Rescue.
AN EXTENSIVE MEDICAL BILL
Abelson reached out to a group of local volunteers who were able to drive him two hours to Los Angeles. Larry's stomach was bloated, he had trouble walking and was missing patches of fur on his legs.
Despite his poor condition, the sweet dog still wagged his tail when approached by his rescuers. He was later diagnosed with Cushing's disease, a condition caused by a benign tumor on the pituitary gland.
After the tumor was removed, he spent a month at the veterinary clinic, where he adjusted to the medication. He was sad and depressed, but the bloating disappeared over time.
Initially, Abelson wasn't sure if Larry would be able to be with other dogs, but soon his personality blossomed and he went back to being the sweet, loving and forgiving dog that he always was.
Ever since his rescue, Larry has been in three forever homes but he has been returned each time. He is afraid of being alone due to having been abandoned but he is a very loyal and affectionate dog who only wants to be loved.
He is currently living in a foster home but he wants to belong to a family that he can call his own, one who won't leave him behind again and give him lots of treats.
Earlier this year, a dog named Jumping Bean was found chained to a short leash in the basement of a house. The female pit bull had been there for quite a while and was very happy to be rescued.
Without any food or water, the friendly pooch wouldn't have been able to survive much longer. Luckily, the staff from Stray Rescue, in St. Louis, Missouri, was able to give the sweet girl another chance at life.
Please fill in your e-mail so we can share with you our top stories!