Sarah Ferguson reveals the touching reason she wore green to Princess Eugenie's wedding
The Duchess of York opened up about the past and her plans for the future.
Sarah, Duchess of York's journey has been difficult. She was on top of the world, a member of the British Royal family, and she fell from favor, becoming a virtual outcast.
Sarah married Prince Andrew of Windsor on July 23, 1986, in a fairytale wedding at Westminster Abbey, and 32 years later she watched her youngest daughter Princess Eugenie walk down the aisle.
In a tale of two weddings, Sarah opened up in an exclusive interview with The Daily Mail on November 13, 2018, about her life and her struggle with her weight, and her relationship with her ex-husband.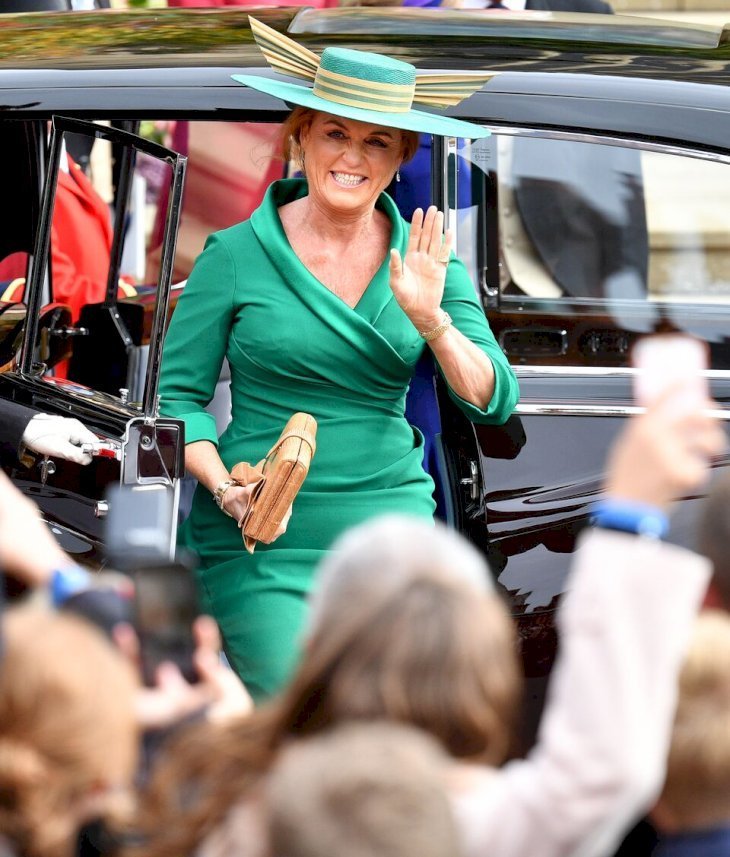 "Mum had carried the handbag at my wedding to Prince Andrew and the admission tickets were still in it. They were green — which was why I wore green on the day."
Sarah, Duchess of York, The Daily Mail, November 13, 2018.
THE MOTHER OF THE ROYAL BRIDE WORE GREEN
Sarah and Prince Andrew share two daughters, Princess Beatrice, and Princess Eugenie. It was Princess Eugenie's wedding that allowed a rapprochement between the outcast Duchess and the Royal family.
The exuberant Duchess wore a vivid green, which she explained was inspired by her mother. Mrs. Ferguson had carried the same vintage handbag to Sarah's own wedding, and inside were the green admission tickets to the wedding - the very shade she wore to her own daughter's wedding.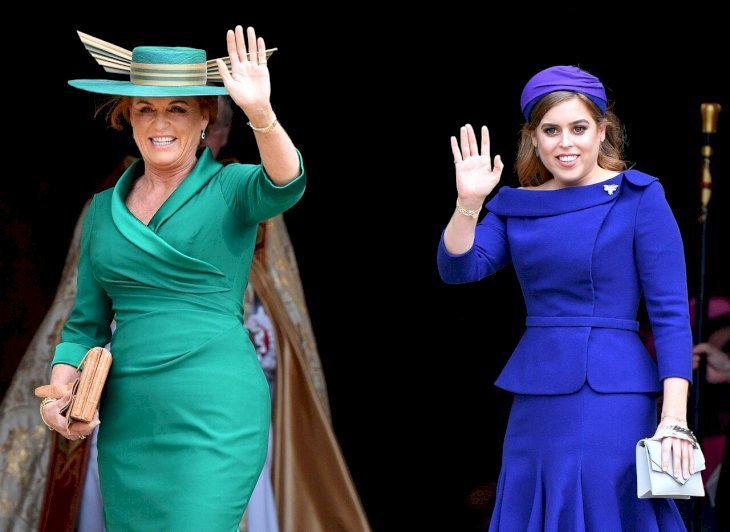 YEARS IN THE "WILDERNESS" 
Sarah was frank about her ostracism from the Royal Family, which she admitted was particularly difficult at Christmas when her daughters would spend the holiday with the Royals at Sandringham while she watched them on TV. Alone.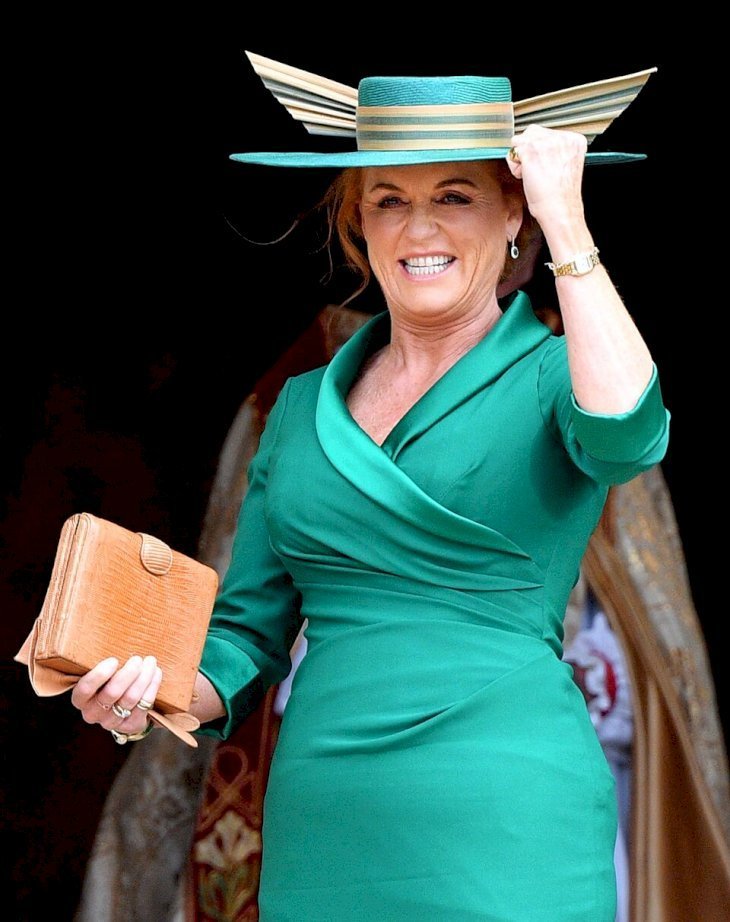 FINANCIAL DISASTER AND PUBLIC DISGRACE
Compounding her personal woes, Duchess Sarah spent herself into bankruptcy, with debts amounting to millions. In an effort to earn money, she was caught by a reporter who posed as a businessman selling access to her former husband. The incident further widened the rift with the Royals. 
AN IDEAL DIVORCE
Throughout the 22 years since her divorce, Duchess Sarah has had one staunch defender in her corner: Her ex-husband Prince Andrew.
Prince Andrew has been supportive of the mother of his children, even through the darkest days of her public disgrace, and rejection by his family. Sarah lives in her husband's house, the Royal Lodge at Windsor Great Park. The two are close friends and there have been rumors that they may remarry.
NOT INVITED TO WILLIAM AND KATE'S WEDDING
Sarah spoke to Oprah Winfrey and revealed her hurt at not having been invited to Prince William's wedding, especially since she had been Princess Diana's best friend:
"It was so difficult because I wanted to be there with my girls and to be getting them dressed and to go as a family, and also it was so hard because the last bride up that aisle was me."
She freely admits that the responsibility for her ostracism was hers alone, and a direct result of her reprehensible behavior in the past that had wounded her husband and his family.
Sahra was invited to Prince Harry's wedding to Meghan Markle, but the invitation was a bitter sop. She attended the wedding ceremony but was not invited to go to the reception with her daughters.
Duchess Sarah of York has trod a thorny path, but it looks as if she is finally forgiven and taken back into the Royal Family fold.