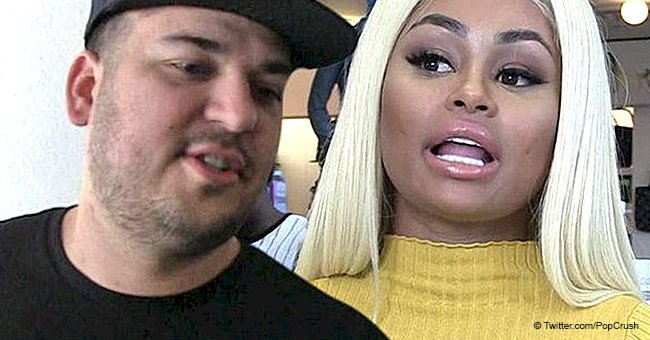 Rob Kardashian reportedly files to lower $20K monthly child support payment to Blac Chyna
The only son of Kris Jenner has reportedly filed to reduce the thousands of dollars he's paying in child support to ex-fiancée, Blac Chyna. Rob Kardashian is also suggesting Chyna should pay him child support now that he's earning less.
Since their public and acrimonious split, Rob and Chyna have been at loggerheads over parenting decisions and responsibilities concerning their daughter, Dream Kardashian, who recently turned two.
Now, The Blast has obtained court documents filed by the Exes in their ongoing custody battle. In it, Rob revealed he could no longer afford to pay Chyna the ordered $20,000 per month in child payments.
The "Keeping Up With The Kardashians" star is asking that the amount is modified because he's not been making as much money.
The reason for that, according to Rob, is the domestic violence restraining order filed against him by the former stripper, and mother of his child.
He says he has not "participated in the filming of any [KUTWK] episodes since this summer because of the media scrutiny that attended Chyna's request.
The 31-year-old explained:
"It has been an extraordinarily difficult time for me emotionally and I have no desire to continue participating in the reality show. I would like to maintain my privacy, try to recover from the emotional damage of the past several months, and explore other business ventures."
DWINDLING FORTUNES
Rob's contract with the show is said to have guaranteed him a minimal $1 million annual salary, but so far, in 2018, he only received compensation for episodes he appeared in, and at a reduced rate of $50,000 per episode.
Rob's legal team point out that while the star's fortunes have dwindled, Chyna has cashed in on the controversy and is now allegedly worth over $1.4 million.
Rob, who claims his monthly income has gone from $100,000 per month to less than $10,000, now believes Chyna, 30, should be paying him child support. His lawyers estimate that he is entitled to $2,864 for his 50/50 custody of Dream.
CHYNA'S ANGLE
On her part, Chyna is accusing Rob and his lawyers of "manipulating" numbers to favor their bid for the child support modification. Her attorney, Lisa Bloom, reportedly told Page Six that they believe Rob has "deliberately retreated from social media to reduce his income so that he can pay less child support."
During one of the hearings earlier this year, a judge suspended all child support obligations until the chaos is dealt with and ordered both parties to hand over financial documents.
Recall that last Fathers' Day, Chyna claimed on Instagram that Rob does not pay child support, but insiders told the media it was an attempt to bait Rob, who had been prohibited from posting about her, into firing a response.
Rob and Chyna, who once had their reality show on E!, are slated to meet with a judge in December for a decision.
BABY COMES FIRST
Despite their disagreements, there is one thing the estranged Exes agree on, and that is showering their daughter with all the love there is.
Chyna has an older son with ex-boyfriend, rapper Tyga, but Dream is Rob's only child. The adorable toddler turned two on November 10 and enjoyed heartfelt tributes from her mom and dad.
Please fill in your e-mail so we can share with you our top stories!