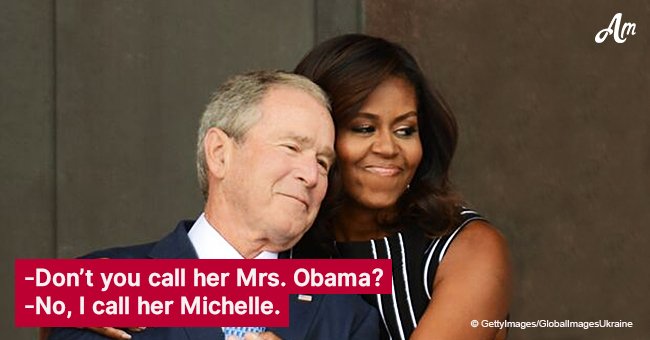 Michelle Obama opens up about her disagreements with George W. Bush despite her attitude to him
Former First Lady Michelle Obama and former First Daughter Jenna Hager Bush discussed her relationship with George Gush on "The Today Show."
When Jenna arrived at the set, she told Michelle that her father, former President George W. Bush sent his love to pass along to Michelle.
Jenna told the audience that she asked her father "Don't you call her Mrs. Obama?" to which he replied: "No, I call her Michelle."
Michelle and George Bush have a special relationship, despite being on the opposite sides of the political spectrum.
George W. Bush is a Republican and Michelle is a Democrat, but they share a mutual respect. Read more on our Twitter account, @amomama_usa.
In today's upsetting political climate with a President in the White Office spreading fear and division, being "nasty sells." Michelle explains:
"I guess we've become a culture where nasty sells. So people are just gonna keep feeding that."
Michelle and George's friendship is proof that people from opposite political beliefs can still be civil despite disagreeing with each other.
And they do disagree on certain things, Michelle says. "We have different ideas about what's the best way to [get ahead.]
She added though that disagreeing doesn't make either of them "evil" or "stupid," insults that are so easily flung around these days.
It just makes them two adults who can agree to disagree while still caring deeply about the other.
An adorable moment was captured between the two at the late Senator McCains funeral service earlier this year.
They were seated next to each other at the service and Bush could be seen taking a piece of candy from his wife and passing it to Michelle Obama, who was seated to his right.
Michelle graciously accepted the candy and mouths the words "thank you" while Laura sits with a big grin and George looks ahead with a serious face.
Please fill in your e-mail so we can share with you our top stories!