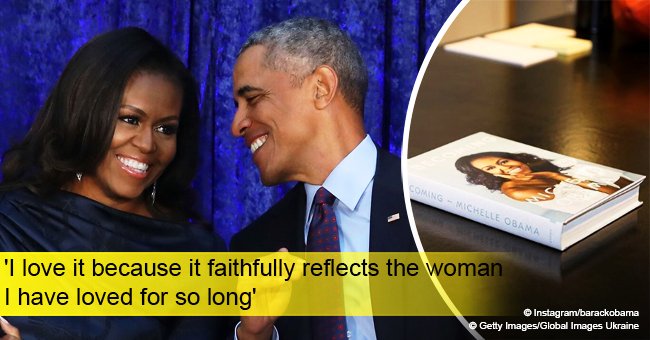 Barack Obama melts hearts with his 'honest' review of wife Michelle's 'Becoming' memoir
In an endearing post, Barack Obama gave a glowing review of his wife's book and described it as a reflection of "the woman I have loved for so long."
Michelle Obama's new memoir, "Becoming" is gaining an astounding amount of attention since its release on Tuesday. But no amount of record-breaking pre-orders could compare to the affirmation the former first lady received from the man closest to her heart – her husband.
A day after Michelle released her book, Barack Obama took to his Instagram to laud his wife for a job well done.
A LOVE SO STRONG
26 years and Barack and Michelle still manage to ignite their marriage. Through the years, fans have become witness to their affectionate moments both in an out of the White House. More recently, the couple exchanged sweet dedications to celebrate their anniversary. Barack delighted in being married to his "favorite person to see the world with" while Michelle deemed him "a treasure."
A GLOWING REVIEW
Yesterday, fans got another glimpse of Barack's fondness for his wife. In an Instagram post, he shared a photo of her latest book and gave his honest opinion about it.
"Of course, @MichelleObama's my wife, so I'm a little biased here,"he began to write, captioning a photo of Michelle's book placed on a table.
"But she also happens to be brilliant, funny, wise – one of a kind," he continues.
"This book tells her quintessentially American story. I love it because it faithfully reflects the woman I have loved for so long."
A MARRIAGE THAT MATTERS
The swoon-worthy comment confirms what we knew all along. The former first couple is what marriage goals are all about. It doesn't matter that they struggled in the past and even saw a marriage counselor as Michelle revealed in her book. What matters is they survived a miscarriage, successfully conceived two children through IVF and breezed through two terms in the White House while raising a family.
Today, they continue to stand united pursuing their separate endeavors and share a home full of love that's stronger than ever. Peppered with the sweet affirmation of their love for each other, we predict, this marriage has a long, bright future ahead.
Please fill in your e-mail so we can share with you our top stories!