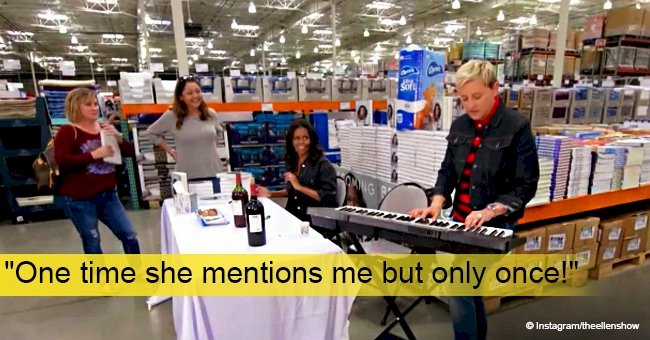 Ellen sets up an impromptu performance as Michelle Obama signs copies of her new book in video

Michelle Obama recently signed copies of her new book at a store and had her friend, Ellen DeGeneres as a companion. The two women have always made us laugh and this time was no different.
On Wednesday night, talk-show host, Ellen, 60, shared a clip on Instagram to tease the former First Lady's Thursday appearance on The Ellen DeGeneres Show.
"@MichelleObama is here for the whole hour tomorrow. I'm so happy, I could sing," Ellen wrote. And sing she did!
The video shows the two women walking down an aisle in Costco, Michelle in an all-black ensemble and Ellen in a Denim jacket worn over a red-and-black striped T-shirt.
At the end of the aisle is a section for Michelle's new memoir, "Becoming" and the girl-child advocate says excitedly:
"Oh look, it's the first time I've seen my book in a store!"
ELLEN MAKES AN ANNOUNCEMENT
While Michelle is seated at a signing table, getting ready to meet fans, the hilarious Ellen whips out a megaphone and announces: "We have Michelle Obama!" After loud cheers from fans in the building, Ellen adds, "Michelle Obama! She'll be signing books!"
It turned out that was only the beginning of Ellen's antics. Anyone who watches her show knows that the comedian has a lot of jokes under her sleeve, and when she whipped out a keyboard for an impromptu performance, no one could resist laughing.
A SONG OF OPRAH
Michelle, 54, tried her best to concentrate on signing books as Ellen sang:
"Michelle Obama, Michelle Obama wrote a book," she sings. "She mentions Oprah [Winfrey] several times and me only once!" Michelle wrote a book mentioning Oprah too many times, but me only once. One time she mentions me but only once!"
MORE ELLEN SHENANIGANS
The crowds couldn't help smiling throughout the event, and in a longer version of the video posted on EllenTube, there are even more shenanigans.
Ellen hides a flask in one of the books, tears out a leaf from another to offer fans "free samples," and jokes that Michelle needs medicine for her to foot fungus.
"I don't have foot fungus!" the former First Lady yells back into the megaphone while trying to hold back laughter.
The outing ends on a heartwarming note, with Ellen and the gathered crowd shouting:
"We miss Michelle! We miss the Obamas!!"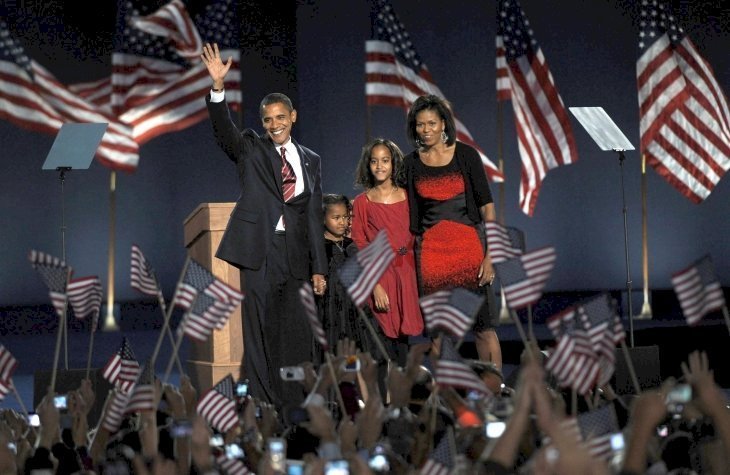 Shutterstock
THEY GO WAY BACK
Ellen and Michelle's friendship has come a long way, from their hilarious push-up contest in 2012 to their 2016 CVS run where Ellen insisted she was trying to teach Michelle how to shop after the White House.
Meanwhile, "Becoming" topped best-seller lists way before its official November 13 release. Michelle kicked off her book tour in Chicago on Tuesday in Chicago.
MICHELLE SOBBED FOR 30 MINUTES
She sat down with Oprah Winfrey and revealed, among other things, why she "sobbed for 30 minutes" after leaving President Trump's inauguration.
Michelle's tour is scheduled to stop in other cities like Los Angeles, Washington D.C., Boston, Philadelphia, Brooklyn, Detroit, Denver, San Jose, and Dallas, before rounding off next month in New York City.
Please fill in your e-mail so we can share with you our top stories!