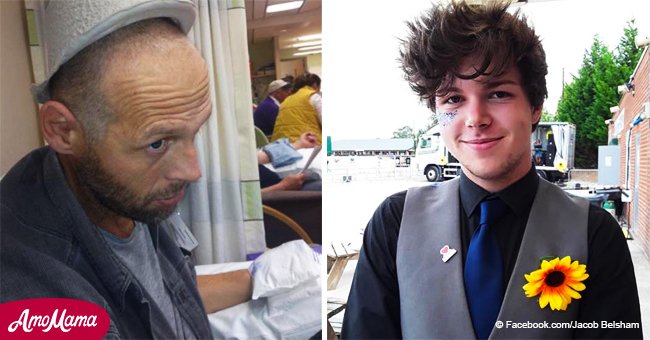 School told student to 'man up' when his father died – now he's banned for criticizing them
In May 2017, Jacob Belsham saw his father, Lee, die after a 4-year battle with esophageal cancer. The student had to sit for his first-year exams while his father was in a hospice.
After receiving disappointing grades, he decided to retake his A-levels at a new school, Sandbach High. The school was initially supportive but things turned sour when Belsham was suspended.
Jacob Belsham, 18, is a student that has Asperger's and suffered the loss of his father, Lee. When he started school at Sandbach High they were supportive at first and offered him counseling in response to another issue he was facing.
His mother Marie, 47, said:
"He was having nightmares. He was getting up in the mornings, throwing up and going out of the front door. He said he needed to get to school or he would get in trouble. They pulled him up about his lateness and his absences."
For more on this story go to our Twitter account @amomama_usa. The grief-stricken student confided in a member of staff that he was experiencing the nightmares.
The sixth-grader explained, "I told them it was a physical challenge to just get up and face the day." However, according to the student, the person responded by telling him to "man up."
On May 16, two days before the first anniversary of his father's death, Belsham went home before the school day finished. The school later told the Education and Skills Funding Agency (ESFA) that the student had left for "pastoral reasons."
However, Belsham maintained a teacher had instructed him to go home to "cool off." The student who was missing classes as well ended up writing a Facebook post where he accused the school of discriminating against people with mental health problems.
That led to him receiving a formal seven-day suspension. Belsham explained:
"From that point on, everything was about my attendance and 'how could you criticise the school.'"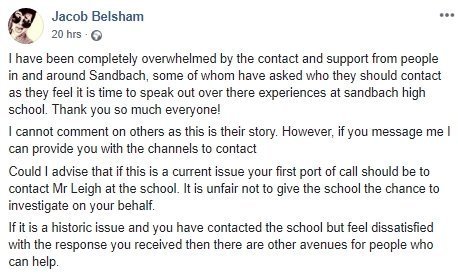 Source: Facebook/Jacob Belsham
He also claimed that friends who 'liked' the post was also called in to see the headmaster. ESFA complaint co-coordinator Michelle Lawrence confirmed that the Middlewich Road school was "in breach of statutory guidance."
In the letter addressed to Belsham, she further wrote:
"The governing body should have advised that you were entitled to an independent review panel (IRP) hearing to review the decision they had reached. Any further breaches may result in the ESFA taking intervention action."
Belsham has now been offered a review hearing on November 27, which he hopes will result in his exclusion being wiped from his records. However, he isn't looking to be reinstated as he has moved on to Cheshire College where he's taking an access course.
In Terrytown, Louisiana, Faith Fennidy, 11, was recorded wiping away tears as she packs up her belongings at the Christ the King Parish School. Her mother, Montrelle was heard asking a teacher to explain why her daughter's braids, which were tied in a ponytail, contravene school policy.
The private school said students can't have extensions or hairpieces and the Archdiocese of New Orleans said the school's policy allowed only "natural hair." Even though Fennidy wasn't suspended or expelled, her family has sought legal advice and are looking for another school for her.
Please fill in your e-mail so we can share with you our top stories!