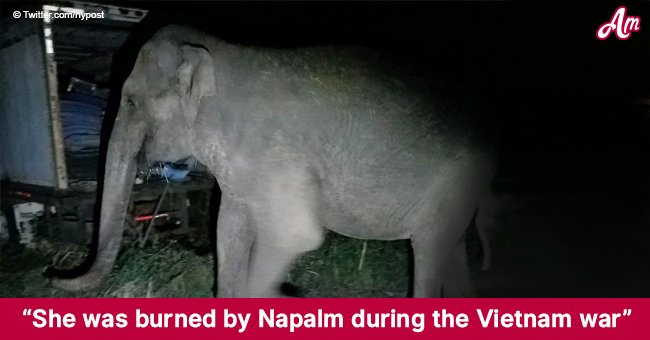 Elephant that survived a napalm bombing during the Vietnam War spotted wandering in New York
Fritha, a 44-year-old elephant that was rescued from Vietnam decades ago, was spotted wandering about in New York.
The animal had escaped from the animal sanctuary in Orange County, New York, and had been escorted back to the shelter shortly after it was seen.
Police officers in Westtown reported they responded to a call around 11:35 in the evening and was told that an elephant had gone loose on William Laine Road.
According to the owner of the sanctuary, Fritha escaped because of a human error following her nightly feeding.
Follow us on Twitter at AmoMama USA for more details and updates.
"She has an electric fence that keeps her contained, and just human error, they forgot to flip her switch on, and it makes a clicking noise and elephants are very, very smart and she knows that clicking noise wasn't on," said sanctuary owner Amanda Brook.
Fritha, who had survived a napalm bombing during the Vietnam War, stunned the cops when she was seen walking by the roadside.
In a Facebook post by the New York State Police, they wrote, "Never a dull moment in Troop F."
Troopers escorted the 44-year-old elephant home towards the Sanctuary For Animals with the help of the sanctuary staff.
The photos posted by the police officers showed Fritha making her way in the dark on the side of the road with the help of the headlights from the police car.
In the end, Fritha was successfully brought back to her home at the sanctuary. The Sanctuary For Animals has been the home of many animals from the wild for several decades.
The National Geographic pointed out that animals like Fritha are not very obedient in the dark.

Source: Facebook/ NYSPolice

Source: Facebook/ NYSPolice

Source: Facebook/ NYSPolice
, "These hungry animals do not sleep much, and they roam over great distances while foraging for the large quantities of food that they require to sustain their massive bodies."
In Zurich, Switzerland, another elephant also escaped from the zoo. People were shocked to see it wandering about in the streets of the city.
Meanwhile, these two former circus elephants who had not seen each other for 20 years were brought to a shelter separately.
Even though they have not seen each other for so long, they still recognized one another. People were touched by the sight of them being reunited. The elephants' reactions were priceless.
Please fill in your e-mail so we can share with you our top stories!