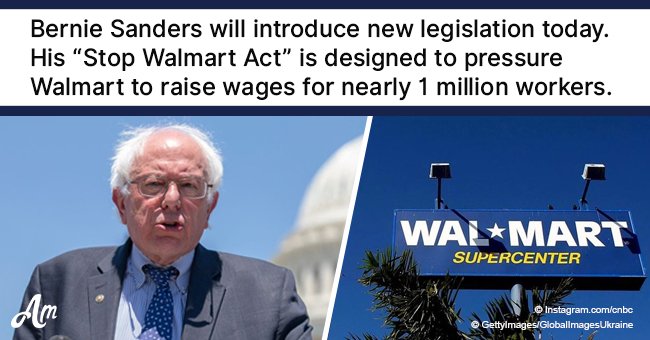 Bernie Sanders introduces a bill that pushes Walmart to raise minimum wage to $15
On Thursday, Senator Bernie Sanders introduced the legislation titled "The Stop WALMART Act," or "The Stop Welfare for Any Large Monopoly Amassing Revenue from Taxpayers Act."
The bill was aimed at Walmart and aims to increase the minimum wage for workers to $15. According to the senator, "Middle-class taxpayers should not have to subsidize Walmart's horrendously low wages."
Senator Bernie Sanders' new bill would prevent large companies from buying back stock unless they pay all employees at least $15 an hour. They would also need to allow workers to earn up to 7 days of paid sick leave.
Lastly, the company would have to limit its CEO compensation to no more than 150 times the median pay of all staffers. The senator noted that Walmart made $13 billion in profits last year.
For more on this story go to our Twitter account @amomama_usa. Their CEO, Doug McMillon was paid more than $22 million, or 1,188 times the typical worker.
Walmart pays their average workers who earned $19,177. In February, the company raised its minimum wage to $11 an hour and claimed to offer competitive wages and benefits.
They also claimed that they offered the opportunity to advance and earn higher pay. In a statement they said:
"We have increased our starting wages by more than 50% in the last three years and currently have an average hourly total compensation of more than $17.50 an hour. At the same time, we've also added new benefits like paid time off, advanced job training, paid family leave and college for $1 a day."
Sanders' new legislation isn't the first time the senator has tackled the low wage issue. In September, he revealed the Stop BEZOS Act.
With this act, the senator called for levying a tax on large companies equal to the value of the public benefits that their workers receive. One month later, Amazon announced that it would raise its minimum wage to $15 an hour from November 1.
However, the company also removed bonuses and stock awards for hourly workers. Sanders has also called out other companies who pay low wages, including American Airlines and McDonald's.
In the bid to rake in more money this month, Walmart launched Black Friday before its competitors. Their early-bird deals are already live and they can be bought online.
Please fill in your e-mail so we can share with you our top stories!