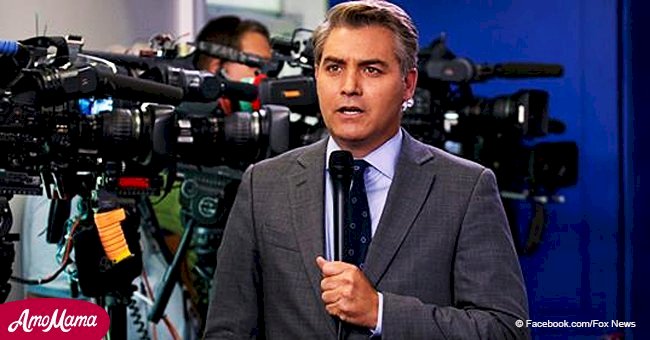 Judge orders White House to restore Jim Acosta's press pass

A federal judged has restored order after the White House revoked Jim Acosta's press pass. Now, Acosta is ready to "get back to work."
BBC reported that on Friday, U.S District Court Judge Timothy Kelly determined that Jim Acosta would be handed his hard press badge back from the White House.
It was taken from him earlier this month after a testy exchange between Acosta and President Donald Trump at a news conference.
Follow us on Twitter for more @amomama.
Kelly, a Trump appointee, deemed that the reasons for revoking the pass were inconsistent and inaccurate.
Furthermore, the move against the CNN reporter were not in line with the fifth amendment in the constitution.
Kelly pointed out that the Trump administration did not go through due process to try and revoke the pass. In fact, the process was "so shrouded in mystery that the government could not tell me... who made the decision."
The claims that Acosta inappropriately touched Mrs. Sanders when she tried to take the mic from him were not accepted. Kelly described them as "belated efforts [that] were hardly sufficient to satisfy due process."
Official court documents alleged that Acosta's general behavior disrupted White House decorum. Yet, the White House did claim inappropriateness in their unofficial defense.
Nonetheless, the judge granted that Acosta is given back his credentials to access the White House. This does not mean that the president is obliged to call on Acosta for interview sessions.
Outside, Acosta spoke to the press about the welcomed decision.
"Let's go back to work," he told fellow reporters.
The session is not yet finished, however. Tuesday will see another hearing.
The incident that led to this came when Acosta refused Trump's demand to stop questioning him at a press conference. He was asking a follow-up question about the caravans heading to the U.S-Mexico border.
Trump tried to shut him down but Acosta persisted. When a woman tried to remove the mic from his hand, Acosta firmly held on to it. Trump called him a "rude, terrible person."
Soon after, the White House revoked his pass with no explanation or the chance to contest. Acosta shared a tweet when it happened.
"I've just been denied entrance to the WH. Secret Service just informed me I cannot enter the WH grounds for my 8pm hit."
Press secretary Sarah Sanders called CNN's move "just more grandstanding."
She stated that the White House would "vigorously defend" itself.
On Tuesday, CNN revealed their intention to sue the White House and some officials. Several media outlets were in support of the case.
Acosta has been in many rows with Trump before. Nonetheless, his right to due process far exceeds the White House' hopes for proper decorum.
Please fill in your e-mail so we can share with you our top stories!