Carrie Underwood inducted in Oklahoma Hall of Fame showing her baby bump in chic black dress
Carrie Underwood's husband glows with pride as she is honored by her home state.
Country singer Carrie Underwood was inducted into the Oklahoma Hall of Fame on November 15, and her husband Mike Fisher shared his pride in her achievement with a post on Instagram/MikeFisher.
Underwood, 35, is from Muskogee, Oklahoma, and rose to fame after winning the fourth season of "American Idol, in 2005."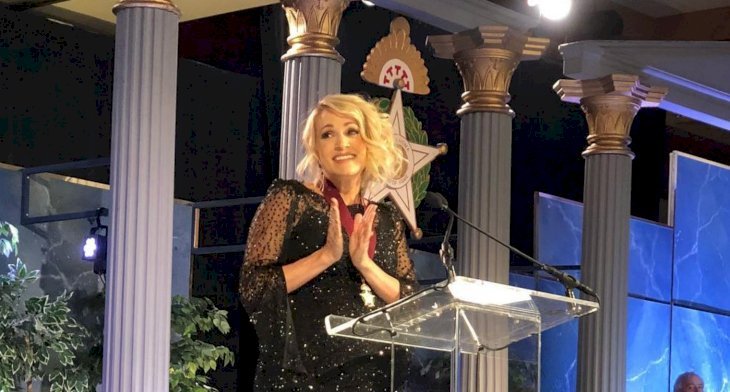 "Congrats @carrieunderwood on the Oklahoma hall of fame induction! God has given you one of the best voices, crazy work ethic and platform you've never taken for granted."
Mike Fisher, Instagram/MikeFisher, November 16, 2018.
A LOVING MESSAGE FROM AN ADORING HUSBAND
Fisher praised Underwood's talent and her work ethic, and he shared his admiration for her continued humility, even though she is one of the world's most successful singing stars.
Fisher, who along with Underwood openly professes his faith, closed his message with a Bible verse from Ephesians:
Now all glory to God, who is able, through his mighty power at work within us, to accomplish infinitely more than we might ask or think."
SHOWING HER BABY BUMP AT THE INDUCTION CEREMONY
Underwood, who is pregnant with her second child by the ex-Nashville Predators ice hockey star, was glowing at the Induction ceremony and wore a striking long black glittering gown with mesh sleeves that showed off her baby bump.
ICYMI: Watch Carrie's #LoveWins performance from the #CMAawards. -TeamCU https://t.co/PeOdlCsXUk

— Carrie Underwood (@carrieunderwood) November 16, 2018
AN IMPORTANT ANNOUNCEMENT AT THE 2018 CMA AWARDS
Underwood co-hosted the 2018 CMA Awards with Brad Paisley and took the opportunity to announce to the world that she is expecting a baby brother for her 3 year-old son Isaiah in January 2019. Underwood also took home the 2018 award for Female Vocalist of the Year.
Last night was a dream...one I'm still doing my best to not wake up from. Today (and every day) I am thankful for all those in my world who make this life happen! Thank you, fans, for the constant support and encouragement. YOU give... https://t.co/EJ6kr8qROC pic.twitter.com/TozvM8v0ma

— Carrie Underwood (@carrieunderwood) November 15, 2018
A NEW LEASE ON LIFE AFTER A CRUSHING 2017
Underwood had an accident in 2017 and fell breaking her wrist and hurting her face. The singer had 40 stitches and extensive facial surgery and told fans she might "look a bit different."
The star revealed that she also had three miscarriages in her attempt to fall pregnant with her second child, which left Underwood devastated.
Through it all, she credited her husband's unswerving love and support with helping her make through what she admitted was one of the most difficult years of her life.
Love seeing these tweets! It's official! #ChurchBells is my new single! 🔔https://t.co/17HZNv3muq

— Carrie Underwood (@carrieunderwood) March 30, 2016
UNDERWOOD IS STILL A SMALL-TOWN GIRL
Fisher praised Underwood for still being the small-town Oklahoma girl, and the singer has remained close to the community she grew up in.
12 years after Underwood became a musical phenomenon, she is as close to her roots as ever and has been there for her friends and family in times of need.
"You know, there's always people that say 'well she doesn't ever do anything.' Anytime you need money or something for this community she'll come through."
Underwood has donated $100,000 worth of new musical instruments to the town, built a new playground for the Marshall Elementary school, funded a no-kill animal shelter with a spay and neuter clinic, and has provided the town's new high school with a computer lab.
Her husband is right., Carrie Underwood is incredible.