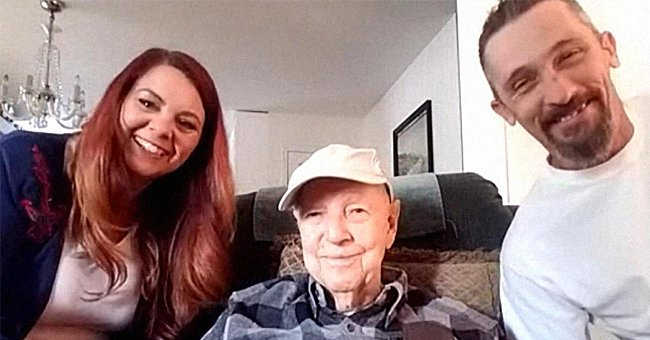 twitter.com/InsideEdition
93-Year-Old Veteran Loses Home in Wildfire, a Couple of Strangers Take Him in to Be Safe
American veteran Lee Brundige was staying in a car park after his home burned to the ground when he encountered a lady determined to house him. Continue reading to find out what happened.
In 2018, World War II veteran Lee Brundige was living alone in the house his late wife designed in Paradise, North Carolina, when he noticed a wildfire was quickly approaching the town.
Brundige picked what he could from his house and jumped into his car as he hurriedly drove as far away from the town as he could.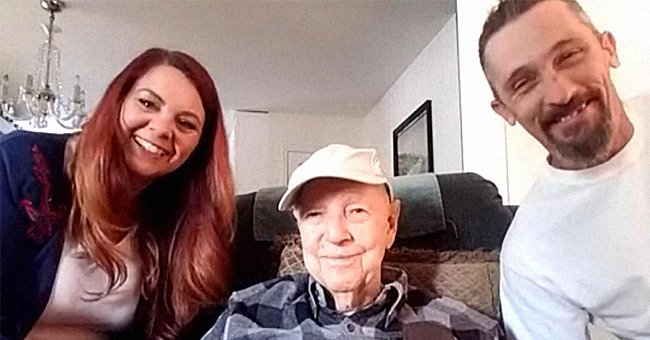 Veteran Lee Brundige in a cute photo with Tracy Grant and her boyfriend Josh Fox. | Source: twitter.com/InsideEdition
With no idea if his house survived the fire, the veteran drove to Oroville, about 11 miles south of the fire, where other evacuees were also situated.
Brundige met Tracy Grant in the town, who was giving out hamburgers to evacuees who had huddled up in a parking lot in Oroville.
Grant subsequently offered him a hamburger, but the veteran rejected it and asked her to save it for someone who truly needed it.
Afterward, she asked the veteran if he would like to follow her home where she was staying with boyfriend Josh Fox, but Brundige refused her offer, explaining he could sleep in his car and was not totally homeless.
Although she was not happy with his decision to stay in his car overnight, Grant understood Brundige did not want to depend on her. However, she made sure he had blankets as well as a pillow, and she also stayed with him until almost midnight before she left.
The following day, due to how far the smoke had spread, the sheriff of Oroville had to evacuate the area where Brundige was parked. The veteran had to succumb to Grant's wishes and follow her home. Speaking on her decision and how hard it was to get the veteran to stay with her, Grant explained that:
"I tried to get him to come home with me the first night, and he said, 'No, my lady days are long gone.'"
She explained her instincts told her not to allow Brundige to stay where he was parked another night by himself and that she would not take him to a shelter. Grant was also wary of the veteran going with other starters who might take advantage of him.
Since he followed her home, Brundige has lived with Grant and her boyfriend Fox and their dogs' Axle and Cash. Grant also explained she had contacted Brundige's son and learned more about the veteran. She and Fox agreed the 93-year-old was welcome to stay as long as he wanted.
Brundige said Grant and Fox were angels to him, and the couple has even bought him clothes and other things. Although he did not know how to thank the pair for this unbelievable kindness they showed him; the veteran declared he would try and find a way to repay them.
Please fill in your e-mail so we can share with you our top stories!