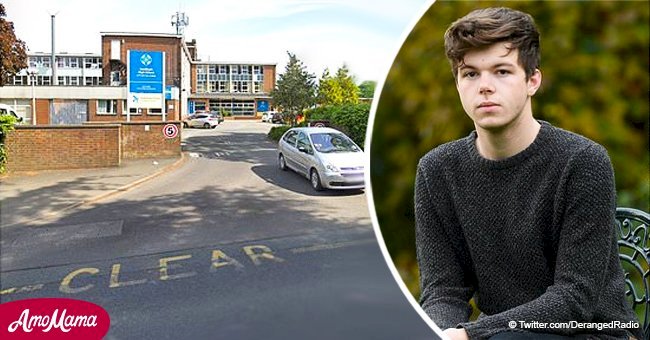 Impaired student blasts school after he was told to 'man up' when his father died of cancer
An 18-year-old student with Asperger's got expelled from school after confiding in a staff member about his loss and being told to 'man up.' and expressing his feelings regarding that on Facebook.
Jacob got disciplined in May after he wrote on social media that staff at school discriminate against individuals with mental health problems. He had told the staff member at Sandbach High School in Cheshire when his father died after a battle with Oesophageal cancer.
The 18-year old got told to 'man up,' and when he talked about it on Facebook, he received a week's suspension, another message of anger sent to a fellow pupil lead to his permanent exclusion from school.
The case got taken to the Education and Skills Funding Agency, who determined that the school is in breach of exclusion procedures because they failed to inform Jacob of his right to independent review.
While his father was in a hospice, Jacob attended a different college and sat for his first-year exams. He decided to retake his A-levels after receiving discouraging grades at Sandbach High after the death of his father May 2017. The school's original support waned when he started to miss class and Jacob said:
"I told them it was a physical challenge just to get up and face the day."
Two days before the anniversary of his father's death, on May 16, Jacob went home halfway through the day, according to the school it was for 'pastoral reasons,' but according to Jacob he got sent home by a teacher to 'cool off.'
The post he wrote on Facebook after that is what caused his seven-day suspension. According to Jacob the friends that 'liked' his post got called to the principal's office.
The ESFA have sent Jacob a letter confirming the school's breach and offering him a review hearing on November 27, where he aims to have the exclusion wiped from his record.
Jacob has since been attending another college and enrolled in an access course and said:
"The school has behaved in a completely over the top, insensitive and heavy-handed manner."
Sandbach High school said in a statement that they are unable to comment as it's an ongoing case. Similarly, a student in Texas got expelled after refusing to stand for the flag and partake in the Pledge of Allegiance.
18-year-old India Landry's opposition the pledge was political and sprouted amid tensions over respect for the American flag.The situation that triggered current matters when India said she felt inspired by the NFL players kneeling for the US national anthem, and a school official told her that 'This is not the NFL.'
India filed a lawsuit against Cypress Fairbanks Independent School District claiming her right to free speech and due process got violated when she got expelled on October 2, 2017. India commented:
"I don't think the flag is for what it says it's for, liberty and justice and all that, It's obviously not what's going on in America today."
Still on the topic of the Pledge of Allegiance, but from a different perspective, an adorable video got posted to social media earlier this year. 2-year-old Hyla from Polk County, Florida recites the Pledge of Allegiance without stumbling over her words once.
Her father was busy studying for his naturalization as a U.S. citizen. The Pledge of Allegiance is required to be known by heart, and with little Hyla's fascination with the American Flag, mum Marissa decided to teach her the pledge. Marissa Berland Branisavljevic posted the video to YouTube with the description:
"Hyla is an American born child with Worldly roots (1/4 Serbian, 1/4 Hungarian, 50% American Russian & 100% Jew ;) ) but her obsession with The American Flag inspired me to teach her The Pledge of Allegiance a few days ago. We are still working on clarity, but for a 2-year-old, I think she's doing pretty well."
Little Hyla is so interested in all things American, that she can not only say the Pledge of Allegiance by heart but can also name all 50 states in alphabetical order.
Please fill in your e-mail so we can share with you our top stories!