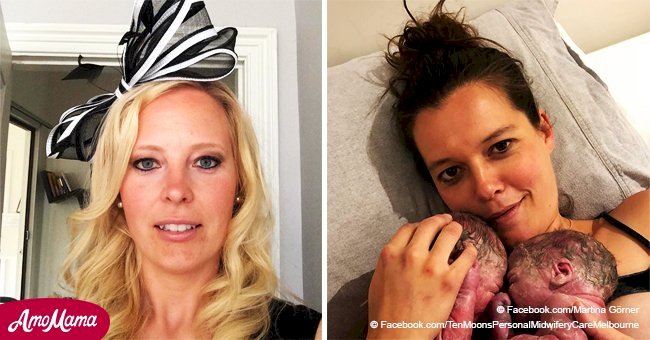 Mom unexpectedly gave birth to twins and now the midwife is under investigation
A Melbourne mother who chose to have a natural birth was rushed to the hospital after she unexpectedly had twins at home.
Her midwife, Martina Gorner, is now under investigation following the delivery of the two babies. The story sparked heavy debate online.
The News Magazine reports that Brooke, surname withheld, welcomed her babies on October 19. She forewent ultrasound scans throughout her pregnancy.
As a result, both she and the midwife were surprised on the big day. Brooke pushed out her first child. Then she believed she was pushing out her placenta.
Instead, another head popped out. The 35-week premature twins were identical. But one of them experienced breathing difficulties and an ambulance took the mom and both babies to the hospital.
Online, many criticized Gorner for not detecting the signs of a twin pregnancy. They deemed her incompetent and shamed both women for not doing a scan.
Gorner, who works at Ten Moons Homebirth Services, was subsequently reported by a co-worker. The organization suspended her while authorities investigate the incident.
A Facebook post announced news of the pregnancy. It said the experience was "full of unexpected surprises."
"Mum gave birth to her sweet little baby boy in water and then we thought the placenta was about to come… but as it turned out there was another baby boy about to make his entrance into the world."
In the comments, people argued back and forth regarding the mother's decision. Some called the situation a "high-risk pregnancy" which the mother and babies were "lucky" to have survived. They questioned how the mother could not know she had twins inside of her "fighting it out."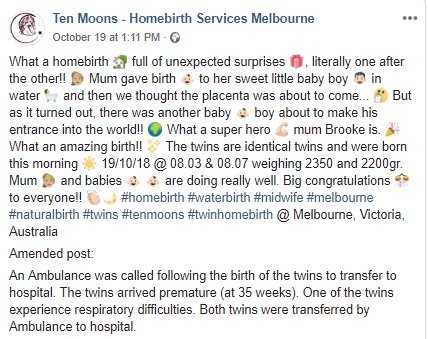 Source: Facebook/ Ten Moons - Homebirth Services Melbourne
But others claimed that twins do not automatically constitute a high risk. Supporters of the mom's choice started a petition.
They titled it "Mothers have the right to a safe natural birth of their choice." They called the midwife's suspension an "outrageous tragedy." The petition has garnered over 36,000 signatures so far.

Source: Facebook/ Ten Moons - Homebirth Services Melbourne
A spokeswoman for the Nursing and Midwifery Board of Australia spoke to Nine News. She made the statement that:
"Before a decision to take immediate action is made, a practitioner is given notice and an opportunity to show cause as to why the action is not necessary."
According to the organization, suspensions are "only taken in the most serious cases when the NBMA believes it is necessary to take action to protect the public."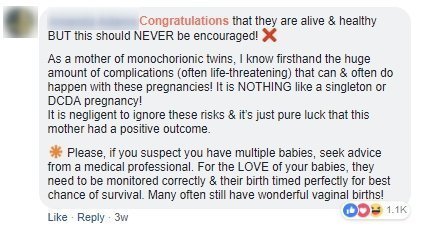 Source: Facebook/ Ten Moons - Homebirth Services Melbourne
Back in June 2018, a similar story of a surprise baby occurred. A Texas mother of three was expected to double her nest in one go when the doctors told her she had triplets.
However, when Vivian van Gorder was still on the delivery bed, Doctor C Tony Dunn gave her shocking news.
"At delivery, we delivered the three we were expecting. And I reached in and felt an elbow and said 'we got a surprise.'"
The quadruplets were all around five pounds. They are doing well following the unique birth. Baylor Scott & White Hillcrest Medical Center said it is the first quadruplet birth in their nearly 100 years of operation.
Twins are always a surprise to expecting mothers. But for singer Hillary. Scott, it was even more shocking.
The 32-year-old suffered a miscarriage in 2015, two years after her daughter was born. In 2017, Scott and her husband Chris Tyrrell got pregnant again.
This time, they waited a few weeks before announcing the news to the public. The Lady Antebellum member welcomed two girls on January 29, 2018.
Please fill in your e-mail so we can share with you our top stories!