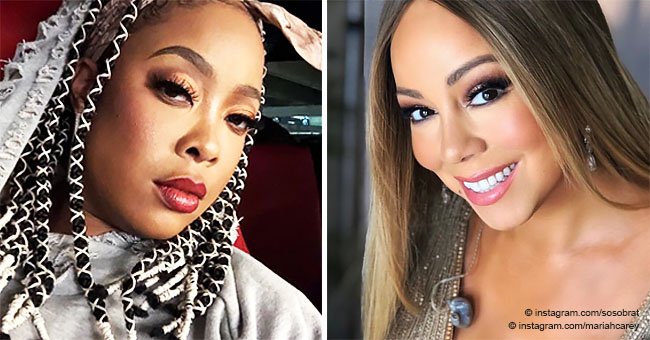 Da Brat speaks up on reportedly receiving financial support from Mariah Carey
"Dish Nation" host and rapper Da Brat filed for bankruptcy in August 2018. Now, one of her creditors is demanding to see the rapper's financial records, claiming that she's getting financial support from Mariah Carey and Jermaine Dupri.
Da Brat, real name Shawntae Harris, is denying the claims. According to The Blast, last week she filed court documents in her bankruptcy case, answering to the false accusations saying that there were no "relevant financial transactions" between Mariah, Jermaine, and her.
She assured the judge that while is correct Carey and Dupri are her close friends, there hasn't been any kind of monetary transactions between them.
Aside from that, Da Brat asked the judge to shut down the creditor's attempts to make her turn in documents related to her income, bank records, and various financial reports. The rapper owes the woman, Shayla Steven, $8,155,731.
THE LEGAL FIGHT
In 2007, Da Brat and Steven were involved in an altercation at a Halloween party at Studio 72 nightclub in Atlanta. The situation got so out of hand that the rapper struck the former NFL cheerleader on the head with a bottle of champagne, causing severe facial scarring and nerve damage on Stevens.
The woman won a $6.4 million judgment over the assault, and besides the monetary penalty, Da Brat spent 21 months in jail and was sentenced to seven years of probation, which she completed last August and celebrated with a jail-themed party.
THE REQUEST
In her efforts to get the $8,155,731 -which is the $6 million verdict plus interest – that Da Brat owes her, Steven requested Da Brat to give a detailed account of her communications with Mariah, Jermaine Dupri, the reality television show "Growing Up Hip Hop in Atlanta," "Dish Nation," "The Rickey Smiley Morning Radio Show," Sony Music, and some other income venues.
The ex-cheerleader is asking for all work-related documents "(whether compensated or not), including but not limited to her public statement that she has the ability to obtain funds to pay Plaintiff in this case from either Jermaine Dupri or Mariah Carey."
THE BANKRUPTCY STATEMENT
Last August, Da Brat filed for Chapter 11 bankruptcy, revealing she owes more than $7 million and her assets total $108,700.65, as reported by The Blast.
The rapper owes money to Sony Music, Ally Bank, the Georgia Department of Revenue, the IRS and her credit cards.
Da Brat's income as an entertainer rack up to $9,319, but her expenses reach $10,506 a month, which means that she is left with a negative $1,187 at the end of every month. The case is ongoing, and the legal issue between Da Brat and Shayla is far from over.
MEANWHILE, ON MARIAH'S WORLD
While Carey didn't address the fact that she was dragged into her friend's legal battle, nobody was really expecting for her to do it.
Mariah is known for her diva attitude, and now that she's focused on the release of her 15th studio album, "Caution," the singer is busy basking in the praises of her fans and critics, who have welcomed the record surprisingly well.
The singer is known for owning the winter season with her Christmas singles, and everytime December is getting closer, the track "All I Want For Christmas Is You" climbs up the chart from out of nowhere.
This year, besides her now traditional New Year performance, Carey decided to gift her fans with new music, and her singles "GTFO" and "A No No" are receiving lots of love from the general audience.
Please fill in your e-mail so we can share with you our top stories!