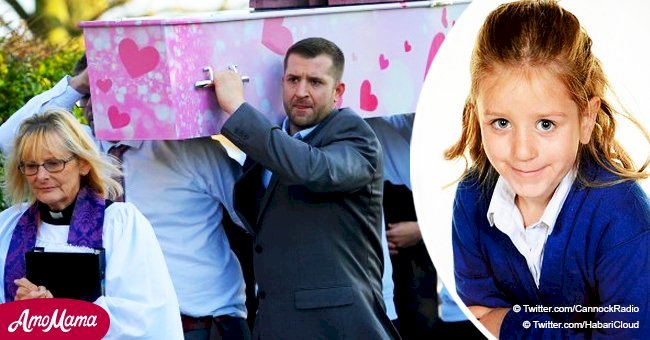 Mother is devastated after her 9-year-old daughter fell asleep and never woke up
A mother of three's seemingly healthy daughter died in her sleep while she took a nap on the sofa, with a devastated family left behind.
On October 21, Jessica Walerzak from Walsall, West Midlands, felt under the weather and complained of a headache and decided to take a nap. Jessica's 61-year-old grandmother, Janet Walerzak went to check up on her where she slept on the sofa, but she would not wake up.
They rushed 9-year-old Jessica to the hospital where doctors discovered an undiagnosed weak blood vessel in her brain that hemorrhaged, a condition that affects one in 1,000 people.
Jessica received emergency surgery, but tragically the family made the heartbreaking decision of switching off her life support machines the following day.
Jessica's mom said there had been no warning signs, but Jessica did make mention of a headache she had before taking a nap. Tracey described her daughter as healthy, beautiful and fun loving little girl.
On Thursday, November 15, shop supervisor, Tracy paid tribute to her daughter Jessica by giving her a pink and white themed funeral in Bentley, where a white horse-drawn carriage that carried her coffin, lead the cortege to the funeral service.
Tracey, also mother to Josh, 18, and Jake, 11, said:
"The way the brain hemorrhage took my daughter so suddenly made me realize that we should never take life for granted. It has made me realize that life is short and to treasure what's important in your life. The day was very emotional, but I wanted the best for her. White horses pulled the cortege, and she'd have loved the horses. She would have been so proud of me."
Saying goodbye to a child is believed to be one of the hardest things any parent can face. Sometimes it happens unexpectedly due to a biological issue, like with Tracey, and sometimes there is a forewarning.
5-Year-old Charlie Proctor from Church, Accrington, Lancashire. But in the end, the result is the same, emotional devastation to those left behind.
When Charlie got diagnosed with hepatoblastoma, a rare tumor that starts in the liver, in February 2016, he needed a liver transplant. It was not terminal unless he could get another liver, there was also an operation that could help.
Being a costly affair, his parents started raising funds for the operation in the United States, but in October his parents received crushing news. Doctors said he had only two weeks left to live.
On Saturday, Charlie's mum Amber, posted a picture of Charlie adding how he had told her, 'Mummy, I'm sorry for this.' Later that day, close to midnight Charlie passed away. Mum Amber posted an update the following morning that read:
"Last night at 23:14 my best friend, my world, Charlie, took his final breath. He fell asleep peacefully cuddled in my arms with daddy's arms wrapped around us. Our hearts are aching. The world has lost an incredible little boy."
Sometimes external factors can take, or threaten the lives of our kids as well, changing the lives of everyone involved forever. When baby McKenna went with her mum to attend a softball game her dad played in, she received a hit with a baseball directly to the head.
She was only seven weeks old at the time, and it left her with a skull fracture, brain bleeds, and seizures that she received treatment for at the Mayo Clinic in Rochester, Minnesota.
Little Mckenna fought for her life for weeks but is said to be recovering well, with her slowly taken off various medications after being in the hospital for nearly a month.
One thing all these mothers agree on is cherishing every moment with their families because one never knows what can happen in an instant. To be grateful for the special moments shared with those you love.
Please fill in your e-mail so we can share with you our top stories!