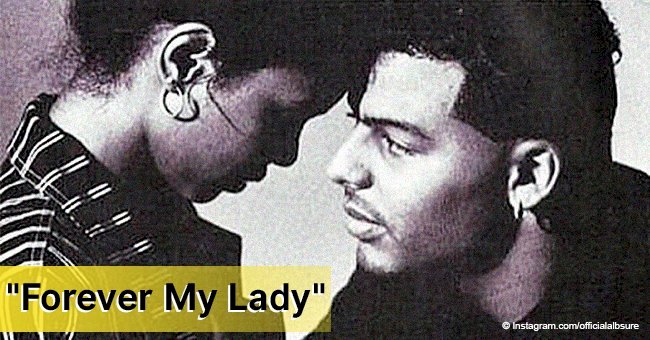 Kim Porter's ex Al B. Sure shares heartbreaking tribute following her sudden death
Music producer, Al B sure has finally broken his silence over the death of his ex-girlfriend and mother of his son, Kim Porter.
Porter, aged 47, was found dead last Thursday at her Los Angeles home. The cause of death for the former model and actress has not been ascertained, but there are reports that she was suffering from flu-like symptoms and possibly pneumonia for weeks.
In a heartfelt Instagram post, Al shared a throwback photo of himself and Porter touching heads. He also wrote "Forever My Lady," a tribute to Porter who inspired his writing of the 1991 hit track with the same name.
Porter dated Al- whose real name is Albert Brown- before she got together with Hip-Hop mogul, Sean "Diddy" Combs.
About three years ago, Al and Porter were featured on an episode of TV One's "Unsung," and the Grammy-nominated producer revealed that he was inspired to write the song after learning that Porter was pregnant with their son.
Porter, at the time, also recollected the time, saying:
"I remember they were working on the song and they couldn't come up with the lyrics and Al looked at me and he was like, 'So you're having my baby.' And I was like, 'Ohhhh!'"
Their son, Quincy Brown, is now 27 and is making progress as an actor.
DIDDY BARES HIS BROKEN HEART
Meanwhile, Diddy has also paid tribute to Porter in a series of emotional Instagram posts. This comes after a source revealed that he was "devastated" and "shocked" over Porter's death. The pair dated on and off for 13 years but remained close even after their final split in 2007.
A heartbroken Diddy shared a video montage of some of his best times with Porter. Clips from a maternity photo shoot and pictures of them with their children made the cut as Diddy let out his feelings in the caption:
"For the last three days I've been trying to wake up out of this nightmare. But I haven't. I don't know what I'm going to do without you baby. I miss you so much. Today I'm going to pay tribute to you, I'm going to try and find the words to explain our unexplainable relationship. We were more than best friends, we were more than soulmates. WE WERE SOME OTHER [expletive] And I miss you so much. Super Black Love."
He also shared another post where he promised to raise their family as she taught him to. Porter and Diddy have three children together- Christian, 20, and twin girls, Jessie and D'Lila, 11. Quincy, Porter's child with Al, was also raised by Diddy as his own.
LOVE FROM AROUND THE WORLD
Although Porter's death was sudden, foul play has been ruled out. Her tragic passing has been met by an outpouring of condolences from celebrities and fans from around the world. Rihanna, 50 Cent, Kevin Hart, and Viola Davis are only a few of those who have reached out.
Porter's close friend and colleague, Kimora Lee Simmons, was also pictured in tears at the deceased's home last Thursday.
Please fill in your e-mail so we can share with you our top stories!