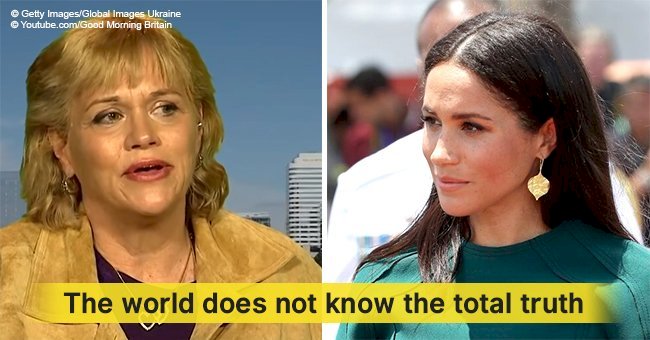 Meghan Markle's sister plans on stealing spotlight of baby birth by 'revealing truth' about Duchess

Samantha Markle, the sister of Duchess Meghan, confessed that she is planning on releasing her tell-all book addressing her sister's "truth" when Meghan's upcoming child is due.
As Daily Star reported, Samantha, who has been doing several different things to attract Meghan and the Royal family's attention ever since she and Prince Harry announce their romance, wrote a book titled "In the Shadows of The Duchess."
In it, she covered "everything" as the world does not know the "total truth" about her sister. Samantha pointed out that she was holding nothing back, promising that her book will be filled with controversy.
CYBERBULLYING
One of the things Samantha wrote in the book is how she suffered "cyberbullying," which allegedly started when Meghan and Harry walked down the aisle. According to her, she even had to contact the FBI to handle the situation.
"On top of it, I am dealing with cyberstalking and cyberbullying with little Twitter trolls… they're kind of nasty sending out banners and propaganda about me that's disparaging and not true," revealed Samantha.
NOT THE BEST RELATIONSHIP
The relationship between Samantha and Meghan has been in the spotlight for a while now. Months before talking about "In the Shadows of The Duchess," Samantha, who has multiple sclerosis, appeared on live British TV.
AN APOLOGY
That day, she apologized to Meghan and begged her to get in touch over their ill father, Thomas Markle, who pull out of the Royal Wedding due to a heart attack. "I am hoping to get a message to my sister – hopefully we can clear the air and move on with peaceful resolve."
"This media madness has been overwhelming, it has been quite hurtful for my family, and I can't imagine how hurtful this has been for my sister," added Samantha.
DORIA ALLEGEDLY SPENDING DECEMBER WITH THE ROYALS
Even though Samantha's plan might deteriorate Meghan's credibility, she has not said anything about it. Instead, she has been arranging her December's celebration. Queen Elizabeth allegedly broke another tradition for Meghan as she invited Doria Ragland, her mother, to join them for Christmas.
Last year, the Queen allowed Meghan to join her family for Christmas despite not being a royal yet, which was also a tradition-breaker. Doria is expected to be the second non-member of the Royal family to be part of the exclusive gathering.
Please fill in your e-mail so we can share with you our top stories!