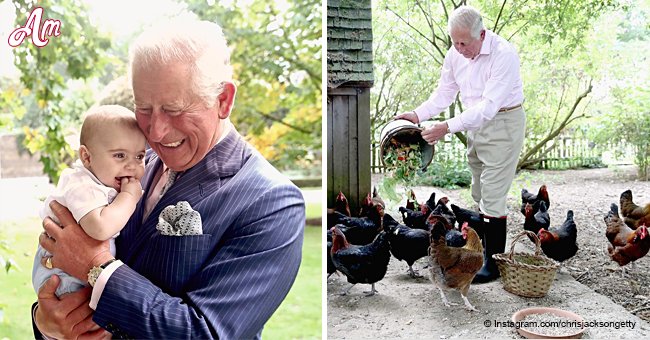 Body language expert reveals what Prince Charles' birthday photos say about his royal character
A body language expert scanned through the recently-released portraits of Prince Charles and his family to mark his 70th birthday.
The Prince of Wales looked comfortable and relaxed while shooting at his garden with his youngest grandchild, Prince Louis.
Getty photographer Chris Jackson shot the photos and included sweet, behind-the-scenes shots that captured the hearts of many royal fans.
The images let the public see what the royals are like when they are at home, especially the next in line to the throne, Prince Charles.
Follow us on Twitter at AmoMama USA for more details and updates.
Judi James, a body language expert and author, shared her input about the images and how they showed the different aspects of Prince Charles' personality.
One of the best photos in the bunch was showing how Prince Charles is as an affectionate grandfather. He can be seen cradling his youngest grandson, Prince Louis, while he stood in the grounds of Clarence House in London in September 2018.
James explained, "This is clearly the money shot. With the grandpa holding an adorable baby Louis with his face wreathed in a congruent smile of pride. Babies and dapper smart suits are a dangerous combination which is possibly why Charles is holding the baby rather gingerly here though."
In another shot, Prince Charles is seen sharing a candid moment with his two sons, Prince William, 36, and Prince Harry, 34.
"Charles also looks like a doting dad here with the bias on Harry in this pose," James suggested.
She continued, "Harry is known for his sense of humor and that seems to bring out the fun and rather boyish side of the prince while William stands much more formally and protectively on his other side."
Meanwhile, another group of shots that quickly captured the people's attention were the ones showing Prince Charles feeding his prized Burford Brown and Maran chickens in his Highgrove House.
In this set of photos, James noted that "the way he has just tucked his suit trousers into his wellingtons makes the moment less congruent here. The prince clearly does engage in his passions but this look is less convincing and a tad too staged."
Lastly, perhaps the one found most adorable by the public, is the candid family shot where Prince Charles can be seen laughing as baby Prince Louis grabs his grandfather's face.
As for Prince Harry and Meghan Markle, James also weighed in and shared her thoughts about their body language.
She told the Daily Star how Markle broke the formality of the shot by leaning forward toward the children. Perhaps she was thinking about their unborn baby, much like Prince Harry, who James claimed was also thinking the same thing.
Speaking with the Sun, she said, "Harry, in particular, seems to be sporting a very secretive-looking smile in the more formal photo, with his lips closed and a knowing eye expression. Meghan holds her hands over her stomach in a light, elegant-looking gesture that has since turned into a baby bump ritual."
With Prince Charles' 70th birthday, Clarence House had been busy with the celebrations. One of the many projects they did to mark the Prince of Wales' latest milestone was partnering with Google Arts & Culture.
The prince collaborated with the company to let the public see what his home looks like, including the gardens and his beloved art gallery, through an online, virtual trip.
Please fill in your e-mail so we can share with you our top stories!