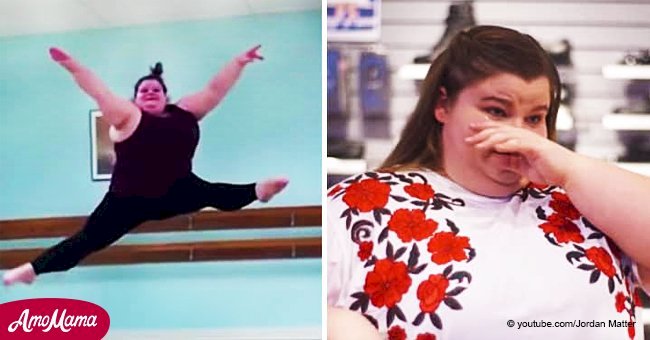 Teen was bullied for her size but she gets the last laugh when her video goes viral
Lizzy Howell was not taken seriously as a dancer because of her size. She proved the haters wrong when she became viral and was praised by millions for her talent.
Young Lizzy is not an ordinary dancer. She is one of a kind, but unfortunately, not all people could see how special she is. They bullied her, which challenged the teenager to be better.
Even though she admitted that the comments got to her sometimes, she said it only made her want to prove that size doesn't matter when it comes to dancing. As long as you have the skill and the drive, you can be successful.
Follow us on Twitter at AmoMama USA for more details and updates.
When Lizzy's dancing video became viral on social media, she was excited. Many people praised her for her talent. Although, popularity also came with online shaming. Still, Lizzy chose to ignore the negative comments and continue to be a role model for girls just like her up to this day.
At five years old, Lizzy's mother passed away. She lived with her aunt, Linda Grabowski, and it was at that time that she started gaining weight. Her aunt encouraged her to try dancing, and it became her coping mechanism. Sadly, it was also the source of her pain because her peers constantly bullied her for it.
"Dance is her outlet for all her emotions, good and bad [but] she persevered. She wanted to drop out many, many times," shared Lizzy's aunt.
Lizzy knew that dancing was her true passion, and she wasn't going to let anyone stop her from fulfilling her dreams. She wants to prove that her body type does not define who she is as a dancer or even as a person.
Soon enough, Lizzy received the proper acknowledgment that she deserved through the famous dance photographer, Jordan Matter. He chose her to be the feature on his photo series as he was touched by Lizzy's heartwarming story.
Matter brought Lizzy to New York where they went to the Capezio store, and they also did a photo shoot in the middle of Times Square.
Lizzy's story will hopefully inspire other out there. She doesn't fit into the stereotype of a dancer, but she is driven to make it in the industry. For her, the most important thing is doing what she loves.
"If you are being told you should quit doing something you love, don't quit! It's one person's opinion, and honestly, if they can't see how happy it makes you, their opinion doesn't matter. Only yours does," said Lizzy.
In her interview with Teen Vogue, Lizzy talked about how it made her feel good to represent people like her. She said it just shows diversity in the dancing industry. Although, she added that there shouldn't even be diversity and that all people should be treated as equals.
Please fill in your e-mail so we can share with you our top stories!