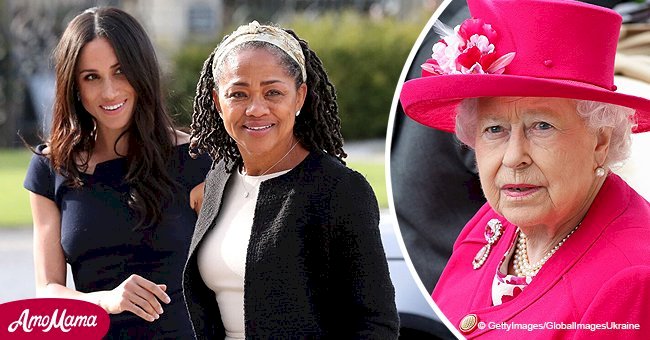 Meghan and her mom will be weighed for Christmas in a bizarre royal tradition, expert claims
Meghan Markle and Doria Ragland are set to attend their first royal Christmas lunch. Through a bizarre tradition, the Queen is going to make sure they enjoy it to the fullest.
The Sun reported that the two will go through a daunting weigh-in before and after the seasonal occasion. According to Ingrid Seward, royal expert and an editor of Majesty magazine, everyone in the royal family has to do it.
The tradition began way back in the early 1900s with King Edward VII. He wanted to ensure that guests all ate a sizeable portion of food and were fully satisfied after the lunch.
Since then, the tradition has always been practiced. But, the invitation to Ragland is unexpected. She is the first parent of a non-blood royal that the Queen has invited.
It may be due to the way the two have been hitting it off since Ragland made her first appearance at the royal palace back in May.
Later on, Ragland told US Weekly that her second favorite part of that week was meeting the Queen (the first was seeing her only child say "I do" at the altar).
Either way, Ragland will be traditionally weighed like everyone else on an antique scale twice on Christmas day.
Markle's husband Prince Harry, his brother Prince William, Kate Middleton, and everyone else will join in.
Here's an idea of how it will go: First, the attendees "enter the dining room in order of seniority," according to Seward.
After being seated, "the head chef carves the turkey" and guests don "paper hats." The queen is the host rather than a guest so she won't be wearing one.
Then they will dive into a turkey dinner and other succulent meals. Afterward, the group will take a walk on the Sandringham estate grounds to "make room" for tea.
The royal family will then indulge in said tea before attacking a "gargantuan iced cake" amid a "candlelit dinner in the dining room."
Markle, in particular, will surely dive in as she is now eating for two. The Duchess of Sussex announced her pregnancy back in October. She is expected to deliver around Spring 2019.
The Duchess will also have traditional rules to follow when it comes to her first child. For one, she won't be giving the public a gender reveal party. Instead, the gender of the baby will be revealed after its birth.
Markle will also miss out on the ever-popular baby shower. Regardless, the royal has already begun receiving tons of gifts from admirers when she travels.
A more appreciated tradition is the on-call doctors Markle will have access to for her and her baby's safety.
Assuming all is well, Markle won't have any excuse not to wear high heels. She will be expected to wear her typically perfect but not necessarily comfortable outfits.
In the meantime, we look forward to seeing what Markle picks out for the special day at her mother-in-law's. Let's hope its something stretchy.
Please fill in your e-mail so we can share with you our top stories!