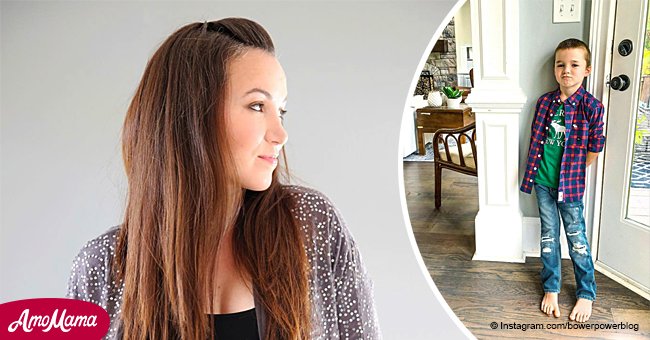 Blogger mom slammed for telling Instagram who's her least popular kid
A blogger mom named Katie Bower was criticized on social media when she posted a photo of one of her sons, who she said was getting fewer likes on Instagram compared to her four other children.
The post came with a photo of the boy to celebrate his sixth birthday. As of now, the post had already been taken down, but Twitter user Stephanie McNeal was able to take a screenshot of the post.
Many other Twitter users enraged after reading Bower's lengthy caption. They said that they couldn't fathom the idea of a mother monitoring her children's Instagram popularity.
Supposedly, they thought Bower from Georgia, who owns the website Bower Power, was a bit superficial.
Follow us on Twitter at AmoMama USA for more details and updates.
Bower's son, Weston, turned six and she took to Instagram to gush over her son and how lovable he is. She told her 53,000 followers all good things about Weston. Although, halfway through her post, she started talking about the number of likes her son had been receiving.
"His photos never got as many likes. Never got comments. From a statistical point of view, he wasn't as popular with everyone out there. Maybe part of that was the pictures just never hit the algorithm right," she wrote.

Source: Facebook/ Daily Telegraph
Towards the end, Bower clarified that she only talked about her son's lack of Instagram likes because "one day he will see the numbers and have to learn that his value is not in online approval."
She also made it clear that what she said did not represent how she treats her children. She asked that people should not take her words out of context.
Despite her disclaiming statement, Bower was still caught under fire with thousands of people expressing their disbelief over her post.

Source: Facebook/ Daily Telegraph
Even the famous model, Chrissy Teigen, saw the post's screenshots and couldn't help but
make a comment
.
Following the backlash, Bower spoke with Inside Edition and said that she still stands behind her reasoning.
The lifestyle blogger said she only talked about it because she wanted to teach the value of knowing your worth as a person and not depending on somebody else's opinion for you to see it.

Source: Facebook/ Daily Telegraph
She
added
, "And as a parent, those numbers mean absolutely nothing. Nothing can change the fact that ALL children are special and unique and deserve love, but unfortunately, from a business side, we hear, 'Keep posting the content that brings in the most engagement.'"
Bower expressed that her words were "misconstrued by people," but she admitted that she could have explained her reasons more clearly.
In the end, she decided to delete the post because of the harsh comments that were supposedly "obscene and did not reflect the type of dialogue we support."
Meanwhile, ordinary mothers had been debating about "Insta-moms" or mothers who choose to share their lives on Instagram, particularly about their children.
Reportedly, some ordinary mothers claimed that blogger moms and Insta-moms are guilty of "shameless advertising and self-promoting." Although, other mothers defended them stating that being a blogger mom is "a job like any other."
Please fill in your e-mail so we can share with you our top stories!