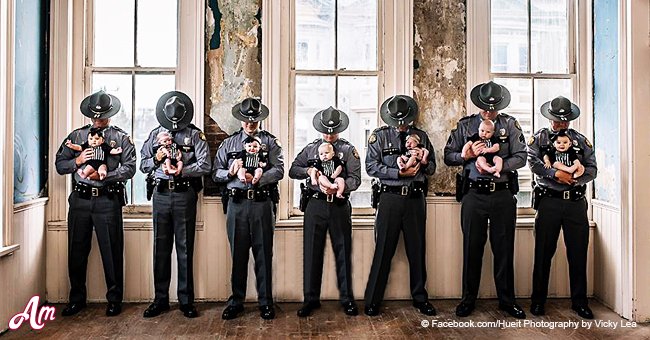 Photo shoot of seven 'Brothers In Blue' and their babies
A photographer brilliantly captured precious moments of seven babies born to seven police officers from the Central Kentucky State Police.
Dubbed "Brothers in Blue", the seven troopers also posed for a photo while holding their babies.
The photo shoot didn't come easy. "They were all crying at one point, and we had some that were happy the whole time, and some that were just not happy," said photographer Vicky Puckett.
The photo shoot, which yielded 275 pictures, lasted two hours.
Follow us on our Twitter account, @amomama_usa, to learn more and scroll down to watch the video below.
Detective Tye Chavies said: "There was a moment there it was pure chaos, but it's just seven babies screaming at the top of their lungs."
Chavies noted the baby boom among Central Kentucky State Police. After realizing this, he and his wife had an idea to stage a photo shoot for the troopers and detectives and their newborns.
"Really, the logistical nightmare of getting seven brand new babies up in one spot, and getting everybody fed and clothed and getting them good to go," Chavies said.
The photo shoot, which yielded 275 pictures, lasted two hours.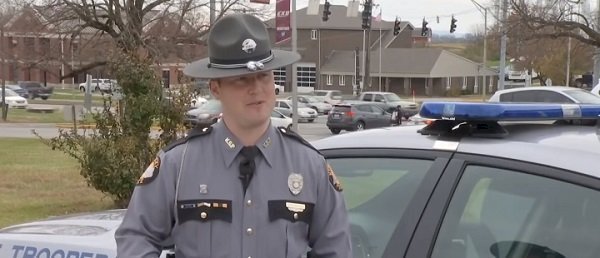 Source: YouTube/LEX18 News
"I was definitely challenged a bit," Puckett said. "I mean, my Photoshop skills were definitely put to the test."
HUMANIZING FIRST RESPONDERS
Chavies said the pictures were one way of showing the humanity of men in uniform.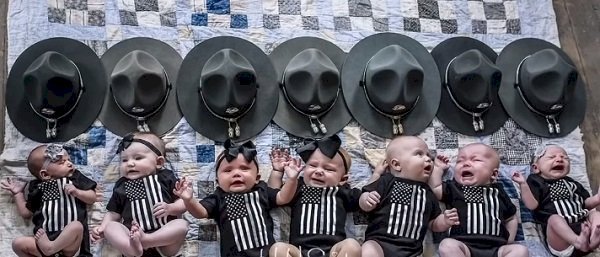 Source: YouTube/LEX18 News
"It's kind of an opportunity to humanize the badge a little bit. I didn't think about it when we took the picture, but it kind of reminds us all the reason we go out every day to work, and definitely the reason why we're coming home," he said.
For her part, Puckett said the photo shoot is one way of showing her appreciation for the officers, who risk their lives in the line of duty. She now offers seven free mini sessions for other first responders.
Please fill in your e-mail so we can share with you our top stories!