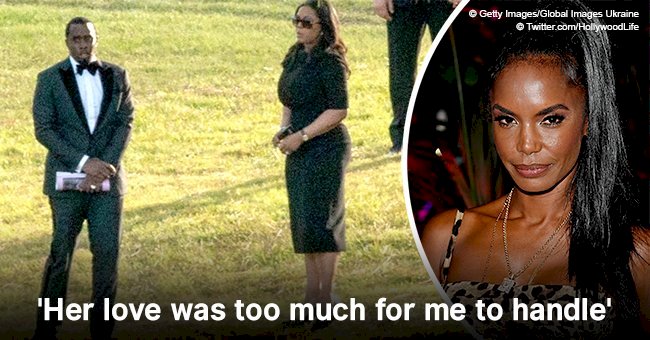 The Blast': Diddy's delivers touching eulogy for ex-girlfriend Kim Porter during her funeral

Diddy delivered a touching eulogy for his ex-girlfriend Kim Porter during her funeral on Saturday.
Diddy recently confessed that he and the late Kim Porter were more than soulmates. News reports had claimed that the Hip-Hop mogul was too overcome with grief to deliver a eulogy at her funeral.
However, Diddy has proved the reports wrong. The musician gave an emotional eighteen-minute long eulogy.
The eulogy touched on the first time he saw her. He also continued to discuss how she helped him deal with his brush with depression earlier this year.
During the service, Diddy spoke from the heart. He did not prepare a speech and allowed the eulogy to unfold as he spoke.
Diddy praised Porter. He called her his "guidance" and "confidante" as well as calling her his friend and soulmate.
"She was my friend first. She was my confidante. She was like my guidance, still is. I was just open … We fell in love and honestly, her love was too much for me to handle. It was a lot to handle, to take in." said Diddy during the eulogy.
Porter's funeral was held on Saturday, November 24, in her hometown of Columbus, Georgia. About 1,000 to 1,500 people attended the service.
The numbers included Diddy who was her ex and biological father of three of her children. Also in attendance were Lil Kim, Mary J. Blige, Faith Evans, Stevie J, Kandi Burruss, Kimora Lee Simmons, and Tichina Arnold.
Diddy also took to Instagram to share more his feelings about Porter writing, "Today we lay to rest our ANGEL. Her spirit lives on with us FOREVER!!! We thank you all for your prayers and support. You have no idea how much it means to us. We thank GOD for all of you."
Porter had been found unresponsive on the floor of her home on November 15, 2018. A family member told 911 that she thought Porter had suffered cardiac arrest after battling a bout of pneumonia earlier in the year.
The Los Angeles County Sheriff's Office pronounced the forty-seven-year-old model and actress, Kim Porter dead on the scene. The cause of her death remained unknown even after her death certificate was revealed.
The model's sudden death has left investigators confused. Especially since Porter was in relatively good health. She had received treatment from a private doctor for the flu and suspected pneumonia in the days prior to her death but had led a relatively healthy life.
Diddy had been devastated and shocked by the news.
Please fill in your e-mail so we can share with you our top stories!