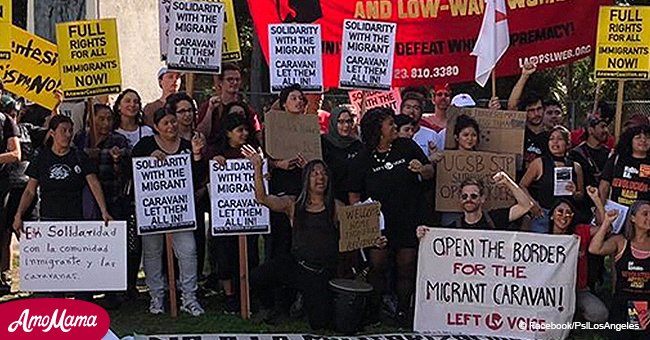 Protesters march in solidarity with migrant caravan along Mexico border
The Party for Socialism & Liberation has stood in solidarity with the migrants currently waiting at the US-Mexico border. They were seen waving signs in support of the refugees who were also making their way to the border.
The group consisted of at least two dozen people. The solidarity march occurred at the San Ysidro border as where the migrants were met with tear gas.
Jose Placencia is an El Paso resident who brought his daughter, Mila, 1, to the rally. He said:
"I want to raise my daughter in a perfect world where everybody's treated equal. Where there's no such thing as walls, borders, nationalities."
For more on this story go to our Twitter account @amomama_usa. The community organizer for The Party for Socialism & Liberation, Ruth Beltran, also had a few words to share.
She shared their mission saying:
"We want them to know that they are not alone. We want to redirect the conversation from the nasty comments that have been made against them to the reality that these people are facing."
On Sunday morning, President Donald Trump tweeted:
"There is no way that the United States will, after decades of abuse, put up with this costly and dangerous situation anymore."
On this point, Beltran actually agreed with the president. She explained:
"We just want to remind poor, working struggling Americans, that your enemies are not the refugees."
Another participant, Juliana Musheyev said:
"The people coming from the caravan are obviously going to be met with intolerance, violence, racism, some of them will be deported. Some of them will be incarcerated. I will welcome them with open arms. I want everyone to welcome them with open arms."
The group's community organizer felt that no one would travel for so long and dangerously risk their lives if they didn't depend on it. She urged everyone to never forget that the migrants were human beings "who are seeking asylum just running from tremendous conditions that they suffer in their countries."
She added that her hope was that other would take a stand and not remain "neutral in this situation of injustice."
A number of the migrants who have demonstrated at the border in a bid to be allowed into the US, found themselves running for their lives when the US border security used tear gas to disperse them. The migrants are at the border seeking entry to seek asylum in the country.
They have traveled from Central America on foot and by bus.
Please fill in your e-mail so we can share with you our top stories!