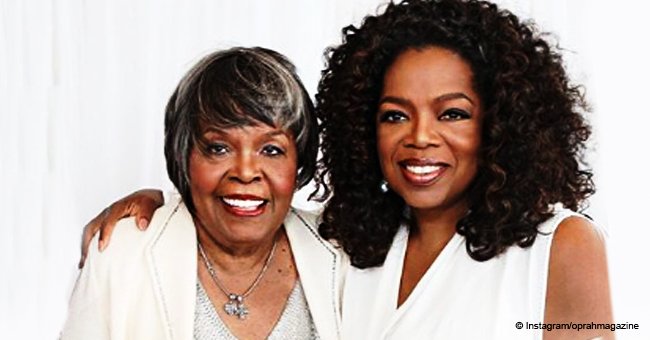 Oprah Winfrey's mother passes away on Thanksgiving at the age of 83
Oprah Winfrey's mother, Vernita Lee, died at the age of 83 in her home at Milwaukee, Wisconsin.
Lee's granddaughter Alisha first revealed the news on Facebook, and it was later confirmed through an official statement to news outlets. Representatives of Winfrey revealed that Lee passed away on Thanksgiving Day at her home.
According to Daily Mail, Alisha posted two photos with Vernita to share the sad news and added:
"My grandmother, Rest In Peace. I lost my beautiful grandma on Thanksgiving. She was the number one supporter of Pat's [Alisha's restaurant] and was the person who named our restaurant. We will miss her and will carry on her legacy of good eating! We love you Vernita Lee!"
Aside from her famous daughter, Lee is survived by daughter Patricia Amanda Faye Lee, Oprah's half-sister, grandchildren Alisha Hayes, Chrishaunda Lee Perez, Aquarius Lofton, and Andre Brown and great-grandchildren Jaxon Praise Perez, Chai Theresa Perez, Donovan Hayes, and Trinity Hayes.
She also had two more children, son Jeffrey Lee and daughter Patricia Lee Lloyd, who died in 1989 and 2003 respectively.
A COMPLICATED RELATIONSHIP
Vernita, born in 1935, was still a teenager when she gave birth to Oprah in 1954. She left her baby under her mom's care and moved to Milwaukee, where she worked as a housemaid.
Oprah was 6-year-old when she reunited with Lee, and because of the woman's absence in her life, they had a complicated relationship. On top of that, Winfrey was abused by two members of her family while living under Vernita's roof.
In 1968, Oprah moved to live permanently with his father, creating even more distance between her and Vernita.
MAKING AMENDS
But after Winfrey became a media sensation, she decided to fix her relationship with Lee, eventually making amends and re-building the bond they had lost through the years.
In 2010, Lee revealed to Oprah the existence of her half-sister Patricia Amanda, whom Lee had given in adoption in 1963 and reconnected with later in life. Surprised to learn about her long-lost sibling, Oprah paid for her college education, officially welcoming her into the family in a special episode of her talk show in 2011.
According to TMZ, Lee was a retired hospital dietitian living in a luxurious condo in Milwaukee and receiving financial help from her famous daughter.
Oprah spent Thanksgiving Day at her home in Montecito with family and friends.
A private funeral service has already been held. The family encourages people to make memorial donations in Vernita's name to Feeding America.
Our condolences go to Winfrey and her family.
Please fill in your e-mail so we can share with you our top stories!