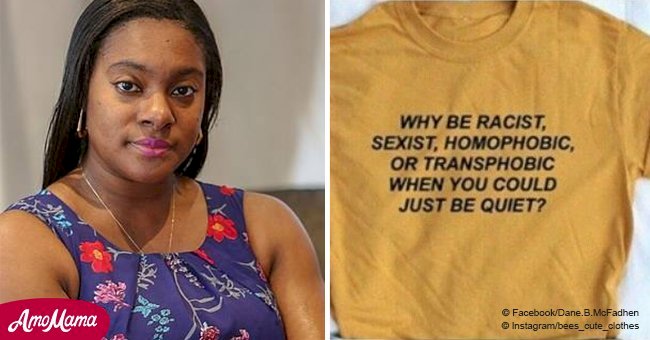 Mom opposing 'gay parade' at school faces staff wearing T-shirt that says: 'Why be homophobic?'
A Christian mother is claiming victimization after she and her son did not support gay pride. The mom refused to have her son attend a gay parade during Pride Month.
According to Life Site, Heavers Farm Primary School in South East London held the event back in June 2018. It was titled "Proud to be Me." According to headteacher Susan Papas, children were expected "to go to any assembly, class or event put on by the school."
But Izzy Montague refused, keeping her son home on the day of the parade. The next day, her son was placed in a three-hour detention. The day after, he went to a one-hour detention.
"I wasn't even trying to stop the Pride event. I just wanted my child to receive an education, rather than indoctrination."
THE ANTI-HOMOPHOBIC T-SHIRT
Montague then tried to make an appointment to see Papas, but she was barred from entering the school. At a meeting with the school's trustees, or "governors," the headteacher's daughter who is also the deputy's head wore a shirt.
"Why be racist, sexist, homophobic or transphobic, when you can just be quiet?"

Source: Facebook/ Busy Mom Official
Yet many were in support of the mother's decision to have a choice in the matter. Montague insisted the shirt was a way to shut her down.
"Given the nature of my complaints, it was obviously a deliberate act to wear the T-shirt. I believe it was intended to belittle my views and intimidate me into silence."
But the school's officials deny that, calling it a coincidence that the shirt was worn that night.

Source: Facebook/ Busy Mom Official
Papas said they meant no offense. She explained:
"Last year we did something for Pride month and focused on what children were proud of. Alongside that we were doing work on anti-bullying, anti-transphobic and anti-homophobic language. The older children were looking at the history of LGBT rights."
However, Montague sees the t-shirt as a clear slight against her. She determined that "it was highly unprofessional and surely does not adhere to the school policy dress code for staff."
"Schools are supposed to be tolerant of different faiths as well as different sexualities."
Regardless, some appeared in full support of the school.

Source: Twitter/ Christian Concern
Regarding the decision to punish her son and at first reject Montague, the mother said:
"I thought this was completely unreasonable … Our children were being indoctrinated with values that they do not need to be taught at such a young age."
About 14 other families have complained against the school, saying that it forces "a very aggressive LGBT agenda on to young children in a manner which abuses parental rights and victimizes parents."
Montague subsequently removed her child from the school and placed him in a Catholic school. She is pursuing legal action.

Source: Twitter/ Christian Concern
TEACHER HAS STRONG IDEAS ON LGBTQ COMMUNITY
In a table-turning incident, one teacher was fired after making homophobic remarks in front of his students. Thatcham teacher Joshua Onduso was effectively banned from his career.
The 50-year-old Christian said gay people "have a disease and are "sick in the head." He worked at the Reintegration Service before the National College for Teaching and Leadership panel made the decision.
The panel determined he was guilty of unacceptable professional conduct. They called his attitude "deep-seated" and said it could lead to "harmful behavior." Onduso did not seem remorseful they said.
TRUMP INDIRECTLY RETRACTS LGBTQ SUPPORT
And in the United States, President Donald Trump seems to be going back on his word to help out the LGBTQ community, resulting in a loss of fans.
Reality star Caitlyn Jenner retracted her support for the POTUS after his administration planned a requirement to define gender by the sex one was born with when it came to military applications.
Jenner took the action personally and said the trans community was being "relentlessly attacked."
Please fill in your e-mail so we can share with you our top stories!