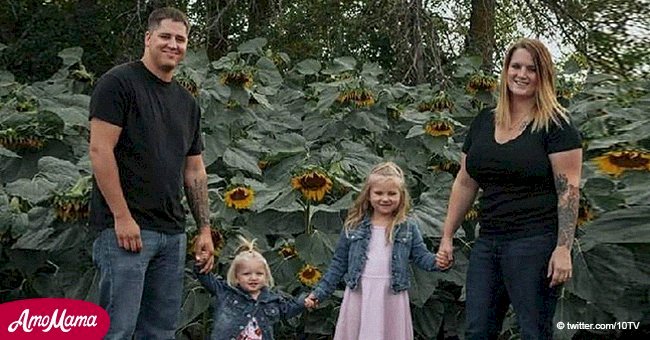 Air Force family reported missing on Thanksgiving were found dead
The family from Manvel, North Dakota that went missing on Thanksgiving were found dead close to Huntley, Montana.
The Dean family died as a result of a car crash on Thursday morning, east of Billings in Montana. Serving in the Air Force, Staff Sgt. Anthony James Dean, his 25-year-old wife Chelsi Kay Dean and their daughters, Avri James Dean,1, and Kaytlin Merie Dean, 5 crashed in their SUV on Thursday morning after it veered off the interstate.
Major Eric Inkenbrandt, 69th Maintenance Squadron commander, under whom Anthony served said:
"Words are not enough during a time like this. AJ's family brought a light to our maintenance community, and this loss strikes each of us deeply. May their friends and family be granted the strength and serenity to get through this sorrowful time."
Read more on our Twitter account @amomama_usa.
While searching for the family on Friday night, Montana Highway Patrol found the scene of the accident in Huntley, 13 miles east of Billings.
The Toyota 4Runner, while towing a trailer carrying another car, had been traveling along Interstate 94 near Billings when it veered off the road and fell 200ft into a creek.
The Dean's were on their way to Chelsi's grandmother in Ekalaka, Montana for Thanksgiving dinner and got reported missing after they did not turn up.
They had left Calwell in Idaho on Wednesday afternoon and got spoken to for the last time at 6:30 am on Thursday morning when Chelsi phoned her grandmother.
According to Montana Highway Patrol the accident happened around 7 am on Thursday, but only got reported at 8 pm on Friday night after which the family identified them on Saturday.
The vehicle veered off the road and crashed into a median and traveled down along it 'for a distance before going airborne' and off an embankment between the westbound and eastbound bridge deck. After the vehicle hit a concrete bridge support, it landed in a creek.
Due to the depth of the creek and the surrounding vegetation, Highway Patrol found their location by pinging a cell phone.25-year-old Sgt. Dean was an RQ-4 Global Hawk crew chief stationed at the Grand Forks Air Force Base. The Air Force uses unmanned surveillance aircraft, like the RQ-4 Global Hawks to analyze vast areas of terrain in a day.
The cause of the crash is still unknown. After the family positively identified the family their grandmother posted on Facebook:
"My poor babies. I hope they didn't suffer. Anthony will always be my baby."
As reality started to set in for Anthony Dean's mother, L.D. Webb she also posted on Facebook:
"Mom and Grandma's heart is broken into a billion pieces,"
The couple had been married for five years and shared two beautiful daughters. Chelsi volunteered for the fire department in Manvel, North Dakota, where they lived.
A similar tragedy occurred on March 26 when a vehicle drove off a cliff near Mendocino in Northern California. Adoptive parents, Jenniffer and Sarah Hart, both 38, were in the 2003 GMC Yukon with Markis, 19, Jeremiah, 14, Abigail 14, Dovente, 15, Hanna, 16, and Sierra 12 when the vehicle drove off a dirt turnout and straight off the cliff.
The car fell 100 feet onto its roof in the rocky Pacific Ocean where it got found later. The bodies of Jennifer and Sarah were still strapped into their seats while some of the children got located outside the car.
Devonte, Hannah and Sierra's bodies were not found, and rescue teams used boats and aircraft to search the coastline. Police are still looking for the three siblings.
Please fill in your e-mail so we can share with you our top stories!