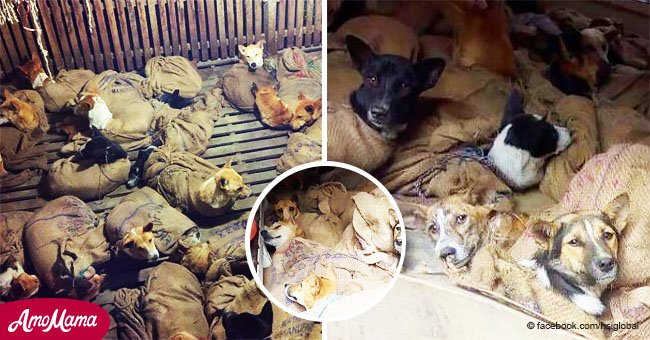 Petrified dogs bound in sacks rescued just before they were sold at the meat market
The image of 36 innocent souls who in their bewilderment seemed to question what they did wrong, have sparkled outrage on social media.
In India, 36 dogs were captured and tied by their snouts with hard ropes. As if this were not enough, they were inside burlap bags, one next to the other without being able to breathe well because the heat was suffocating.
The meat trade of these animals is increasing in India, although it is more popular in China and South Korea. Humane Society International (HSI) indicates that at least 30,000 dogs are stolen and slaughtered for human consumption.
Although for most of our readers it may seem cruel, in these cultures this "food" is increasingly accepted. Read more on our Twitter account @amomama_usa.
Treating these puppies so carelessly causes them to get sick and get infected with each other with rabies and other conditions. Fortunately, all those who star in this story were rescued by protectionists of the HSI, but 12 unfortunately died.
"It was not an easy process for those dogs to overcome that condition, but slowly, with the help of our friendly dog-sitters, they came out from fear and have become friendly and healthy," said Arkaprava Bhar, regional manager of HSI India, The Dodo.
In fact, the furry ones are waiting for some new nucleus in where to overcome the traumas of traveling tight, tired, scared and almost knowing that they were going straight to the slaughterhouse.
The rescue witnesses also suspected that they treated each other well as if they knew their fate. Aizawl Mizoram is the new home of the 24 and now the protectionist team has custody of all to give them up for adoption.
"Some are high energy dogs and would be a great addition to an active family," said Bhar. "Some are shy and require patience and love. Others are older dogs that only need love. However, their behavior can be influenced by their past experiences," he explained.
The dogs are adapting very well. For example, Rosy is afraid of noises, but when she sees people and grasps a bit of confidence, she is very affectionate. Michael for his part is a lover of biting sticks and all kinds of toys and of course loves the company.
Sweety is the soul of the party and walking for him is super exciting. His favorite moment is the caresses in the belly.
SACRIFICED
Bali, in Indonesia, is not just beautiful landscapes. It also has a big problem with the treatment of dogs and is that at least 450 thousand dogs of many local and imported breeds end up being savored as a dish at the tables of that town.
"It has been very disappointing to see so much energy expended in the treatment, sterilization and vaccination of dogs that they end up being slaughtered and poisoned by people in the dog meat trade," said Janice Girardide of Animal Welfare.
Since the consumption of this meat in the region has increased considerably, at least 100 people have died of rabies. The specialists assure that it could have a connection with the ingestion of dog. Therefore, protectionists strive to raise awareness to curb this situation of exploitation and abuse.
Chinese activists working with Humane Society International saved more than a hundred dogs ahead of this year's Yulin Festival in China's Guangxi Region.
This year, Chinese activists who negotiated the release of 135 dogs, captured shocking footage from inside the slaughterhouses, showing dogs crammed into bloodied wire cages. The rescued dogs were taken to a nearby shelter where they received emergency care, food, water; and most importantly, love.
Please fill in your e-mail so we can share with you our top stories!