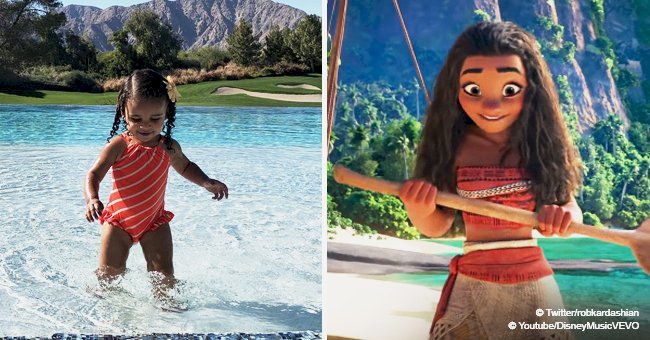 Rob Kardashian melts hearts with picture of daughter Dream looking like Disney's 'Moana'

Rob Kardashian has been keeping a low profile on social media for a while now, but that hasn't stopped him from posting pictures of his adorable daughter, Dream Kardashian. In a recent photo, Dream transforms into the perfect fairytale princess.
Rob, 31, took to Twitter, gushing over his swimsuit-clad baby girl and comparing her to Disney's 2016 Polynesian princess Moana.
Little Dream was pictured in her shiny curls and red-and-white striped swimsuit as she played in a pool. Behind her was a picturesque scene that could easily have been from one of the scenes in the Disney animated film.
Rob was not the only one who thought his daughter looked like Moana. Apart from the tons of fans who agreed with him in the comments, his big sisters did too. Kourtney Kardashian shared the image on Twitter and wrote: "WAIT she is Moana!!"
"Lol yes, she is," Rob replied.
DREAMY THANKSGIVING
The former "Rob & Chyna" star also posted cute snaps of Dream's Thanksgiving outfits. "Thanksgiving Looks," he wrote, alongside a picture of the toddler in a white cardigan, a black top, checkered pants, and glittering black sneakers.
Another photo showed the gorgeous tot striking a pose beside her marshmallow-filled mug.
"My Dreamy girl," Kourtney wrote and another of Rob's sisters, Khloe, chimed in:
"She's a literal doll."
Khloe also added a couple of cat heart-eyed emojis so we know she totally can't help Dream's cuteness.
CHILD SUPPORT BATTLE
The photos come amid the ongoing feud between Rob and Dream's mother, Blac Chyna. Even when they were together, Rob and Chyna had a tumultuous relationship, and now, the two have been trading words over child support payments.
Rob, the only son of reality star/momager, Kris Jenner, reportedly filed to lower the monthly $20,000 child support payments he's been making to Chyna.
According to him, he's not earning as much money as he used to because of the domestic violence restraining order filed against him by the mother of his child.
Rob believes instead that he is entitled to a payment of $2,864 from Chyna since the former stripper now earns more than him and he shares 50/50 custody of Dream.
The estranged exes will meet again in court next month as they continue their child support battle.
Meanwhile, Chyna spent Thanksgiving weekend in Lagos, Nigeria, where she caught backlash for launching a skin-lightening cream in partnership with a skincare line called "Whitenicious."
Please fill in your e-mail so we can share with you our top stories!