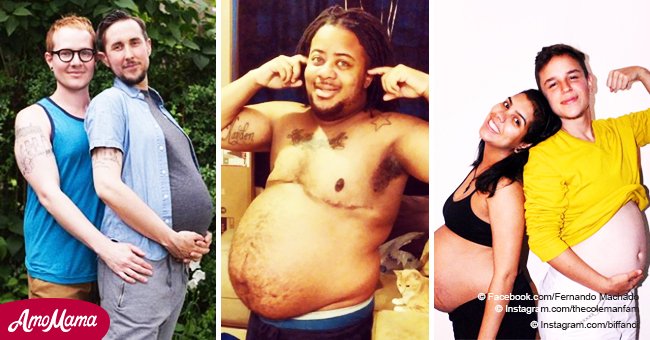 5 pregnant transgender men change our point of view on gender and pregnancy
Here are the inspiring stories of five pregnant transgender men, who had their very own battles and encounters while carrying kids.
Throughout history, transgender people have existed by proofs, but it has only been in recent history that they've been gradually accomplishing rights and freedom, according to Postize.
While these photographs may sometimes challenge us to change how we see the world and the people in it, the truth is transgender individuals are also nothing more than human beings sharing proud moments of their changing lives.
Follow us on our Twitter account, @amomama_usa, to learn more.
1. Kayden Coleman
While he was ten years into his transition, Coleman's pregnancy came out of the blue. He just discovered after a pregnancy test came up positive.
However, regardless of how controversial it might appear to other people, his family is looking incredible.
2. Trystan Reese
Reese and his partner, Biff Chaplow, had previously adopted Biff's niece and nephew. The couple then decided to expand their family by adding a biological child of their own.
According to Reese, being transgender appears to be unique for each person, but he never wanted his body to be as something else, and he embraces the capacity to carry a child.
3. Chris Rehs-Dupin
Rehs-Dupin's wife was struggling to get pregnant in spite of numerous endeavors with a sperm donor and fertility treatments.
In an interview, he said, "I'm not sure if I didn't want to or if I thought I wasn't supposed to, being transgender, and so of course I was very nervous about it and worried what people would say."
"The first time we let ourselves get excited about it was when he went to see the midwife and got to hear her heartbeat," he added. "There was so much joy and excitement and it became real. I'm very proud to say that I did it."
Rehs-Dupin's pregnancy later inspired his better half that she successfully conceived and birthed their second child.d.
4. Fernando Machado
Machado, whose wife is also transgender, is the first pregnant man in Ecuador. He and his wife's story impacted the world forever when their story became a web sensation.
"We are the same as other families. Even though we might not have the same rights, we're the same," he told BBC.
5. Scott Moore
Moore and his husband Thomas were both transgender men. Before he became pregnant in 2009, they had previously adopted two children. In 2010, they welcomed their biological child.
"I opted not to have a penis because I couldn't afford it and I didn't think the results were very good - it had nothing to do with wanting children because back then I didn't think I'd ever have them," Moore said.
Please fill in your e-mail so we can share with you our top stories!