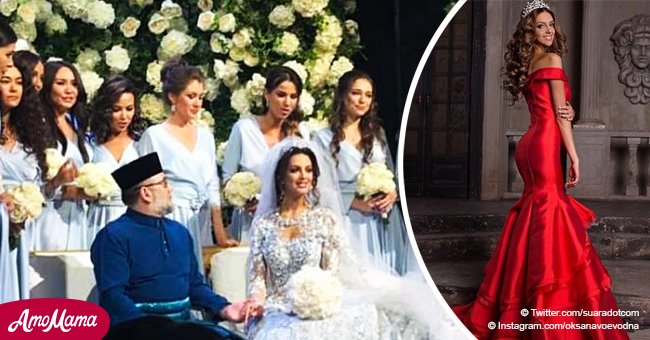 Ex-Miss Moscow, 25, converting to Islam and marrying the Malaysian king, 49
In 2015, Russian Oksana Voevodina was 22 when she won the title of Miss Moscow. At the time she'd revealed that she was more of a bandit who liked guys who were skaters.
However, on November 22, she married a Malaysian King who's 24-years-older than her. She's also converted to Islam.
Yang di-Pertuan Agong Sultan Muhammad V, 49, recently married Russian beauty queen, Oksana Voevodina, 25. Their fairytale ceremony incorporated both Malay and Russian traditions.
It was held at the Barvikha Concert Hall in Moscow, Russia. For the occasion, the king wore a navy blue baju Melayu which is a Malaysian national dress and the bride wore a white wedding gown.
For more on this story go to our Twitter account @amomama_usa. Their reception had non-alcoholic beverages and all the food was Halal.
Before marrying her husband, the former Miss Moscow was a bit of a rebel. In an interview, she once revealed the type of men she was interested in.
She said:
"When I was at school I was a kind of bandit. I liked some skaters, bikes, BMX, guys who took part in competitions."
At a later interview she revealed:
"I think that the man must be the head of the family and of course shall not earn less than a woman."
Not much is known about the new Queen of Malaysia besides her crowning three years ago. It's also not clear how the couple met or whether she was married before or not.
However, her father has been named as Andrey Gorbatenko. He's an orthopedic surgeon from Rostov-on-Don and believed to be in his late 50s.
Voevodina claimed she only realized the power of her looks when she went to university. She shared that college guys would notice her instead of other girls.
In 2014, Miss USA 2014 came under scrutiny for some of their rules which were seen as outdated. Their website stated: "No, contestants may not be married or pregnant. They must not have ever been married, not had a marriage annulled nor given birth to, or parented, a child. The titleholders are also required to remain single throughout their reign."
At the time, 51 contestants competed for the title despite the questionable rules.
Please fill in your e-mail so we can share with you our top stories!