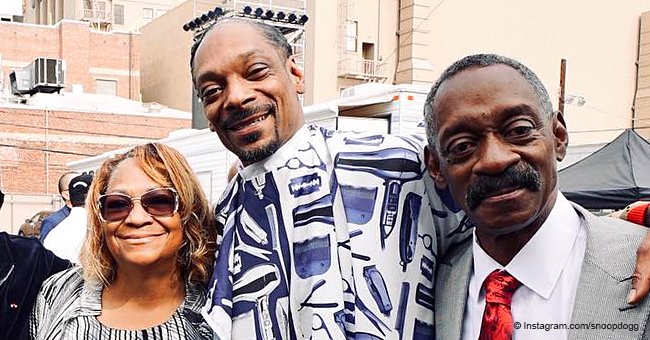 Snoop Dogg melts hearts, posing with both of his parents in rare photo together
Snoop Dogg recently took to Instagram to share a heartwarming family portrait alongside his parents, one of his sons and his mentor Quincy Jones, after he received a star in the Hollywood Walk of Fame.
Cordozar Calvin Broadus Jr., Snoop's real name, recently was recognized for his more than two decades in the entertainment industry with a star on the Hollywood Walk of Fame. He became the 2,651st celebrity to receive the distinguished accolade.
THE PEOPLE THAT MATTERS
Snoop was surrounded by his family and people that have been key on his path to success as he received the star. Quincy Jones, Dr. Dre and Jimmy Kimmel all gave a little speech before introducing the rapper, who took the chance on the mic later to congratulate himself for never giving up on his work.
"I want to thank me for believing in me. I want to thank me for doing all this hard work," he said. "I want to thank me for having no days off, and I want to thank me for never quitting."
"I wanna thank me for always being a giver and trying to give more than I receive," he added.
But after boasting with his dark sense of humor, which fans love anyway, Snoop took the time to thank his family, his supporters and his longtime collaborators Warren G, Dr. Dre and Quincy Jones.
THE EPIC FAMILY PORTRAIT
After the ceremony, The Doggfather took to Instagram to share a photo alongside his son Cordell, Jones, his mother Beverly Broadus-Green, and father, Vernell Varnado.
The pic is epic not only because of the occasion behind it but also because is the first time in years that Snoop's parents were pictured together after their separation more than four decades ago.
AN ABSENT FATHER
Vernell and Broadus-Green were still young when she got pregnant with their only child, and Vernell, a Vietnam veteran, left them soon after Snoop was born.
He wasn't present on most of his son's life, but they got reacquainted when Snoop was in high school, and as of today, have an incredible relationship.
Snoop doesn't have the Vernell last name because his mother decided to give him the one from his late husband Calvin Cordozar Broadus Sr.
AN EVANGELIST MOTHER
Broadus-Green, on the other hand, made sure to raise her son in a Christian home. And she was surprised to found out that Snoop, her most rebellious child, was pursuing a career in hip-hop when he was still a teenager.
"Once I was filled in about what was going on my reaction was, "You got to be kidding me!" I called Snoop as soon as I got home from work. Snoop said, 'Mom this is something that I want to do,'" she recalled on an interview with Liquid. And continued:
"I told him if he was passionate about it to go do what he has to do and I prayed for my son. Since the beginning of his career until now I have seen a tremendous change in my son. Snoop is a man of God, and I can see God positioning him."
Mrs. Broadus, a former chef, is now a renowned evangelist and philanthropist who has traveled across the United States helping battered women and at-risk youth.
Is good to see Snoop spending time with both of his parents despite the differences they might have. They surely are proud of their son's accomplishments and the fact that he has become such an iconic figure in hip-hop and pop culture in the last decade.
Please fill in your e-mail so we can share with you our top stories!