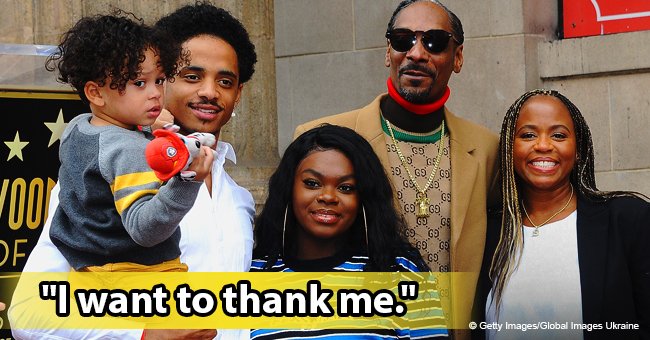 Snoop Dogg poses with family after receiving Hollywood Walk of Fame star, thanks himself in speech
Just yesterday, Snoop Dogg was given the honors of having his own star on the Hollywood Walk of Fame, and he made sure to give a shoutout to everyone who made this happen, including himself.
On November 19, Snoop Dogg received his own star on the Hollywood Walk of Fame right outside the El Capitan theater. His star marks the 2651st star on the famous sidewalks of Los Angeles, and during his speech, he made sure to thank the man who made it all possible: himself.
Snoop Dogg is a household name in the rap industry, and this is mostly because he has gone from being a rapper to a singer-songwriter, record producer, TV personality, entrepreneur, and actor. In total, he has sold over 23.5 million albums in the United States alone, and another 37 million records worldwide. Of course, these sales do not only translate in the form of platinum records but have reflected as award nominations as well, particularly 17 Grammy nominations to be exact.
Now, it's finally time for the world to recognize the empire that Snoop built, and the hard work and tenacity that it took for him to build it.
Aside from his own Walk of Fame star, Snoop Dogg has had quite a full plate this year. He recently released an album called "Snoop Dogg Presents Bible of Love", which is a gospel album, shifting away from his usual genre. His semi-autobiographical musical "Redemption of A Dogg" was also a hit in different states in the US, which just finished wrapping up. Shifting away from his reputation, he also released a cookbook called "From Crook To Cook: Platinum Recipes From Tha Boss Dogg's Kitchen", which is now available in bookstores nationwide.
Before the year ends, he is also set to star in a film and TV adaptation of his GGN news show. To ring in the new year, he is already set to appear on his own game show called "Snoop Dogg Presents The Joker's Wild".
It's all this and more that makes Snoop Dogg worthy of his own Walk of Fame star, and the only question we have in our minds is why it didn't come any sooner. Nonetheless, congratulations to Snoop on this well-deserved achievement!
Please fill in your e-mail so we can share with you our top stories!