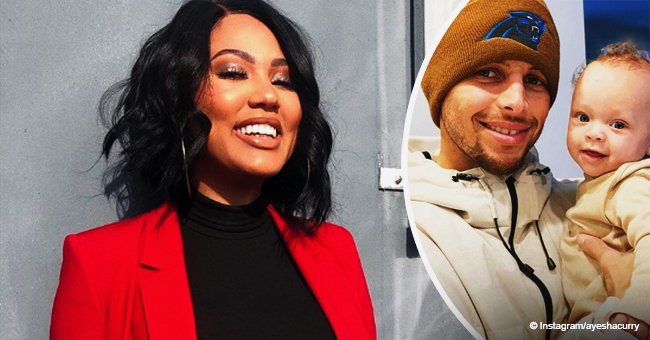 Ayesha Curry melts hearts with picture of husband Steph Curry and son after his car accident
Ayesha Curry, the wife of NBA professional player Stephen Curry, took to Instagram to share a photo of her husband and their youngest child after his car accident.
In the image, Stephen appeared wearing a light beige winter coat and a brown beanie hat while flashing his smile at the camera. Canon, the baby, was looking directly at the camera with his stunning bright eyes.
One of the most striking aspects of the pic was how similar both of them looked. For the caption, Ayesha wrote, "Blessed beyond measure! Look at my man and my baby boy! Wow! There are no words. I dreamt of this."
As soon as the celebrity chef uploaded that image, her followers took to the comment section to share their thoughts. Some of them seemed surprised for how big Canon has got, while others pointed out that he was Stephen's twin.
STEPHEN'S ACCIDENT
Ayesha's post hit her Instagram page only days after her husband was involved in a multi-car crash in Oakland, California. One car spun and hit Stephen's car front, while a second one rear-ended him.
Thankfully, he walked away from the accident unharmed. Soon later, he took to Twitter to write, "Don't need any reminders but All the Time God is Great and God is Great all the time! Appreciate all the texts."
AYESHA DEFENDING HERSELF
It is not the first time that one of Ayesha's children becomes the star in one of her posts. On November 26, she uploaded a video re-enacting a Progressive "Meat Sweets" commercial next to her daughter Riley using Dubsmash.
While most people considered that it was a funny clip, one user blamed Ayesha for not brushing her six-year-old daughter's hair.
"Lawwd have mercy, whyyy don't you know how to brush them girls' hair??? Drives me nuts!!! [sic]," said the critic.
Soon after that, several followers defended Ayesha, something that she later proved it was not necessary. The proud mother tagged the hater and set clear that she didn't make moments happen for social media.
Canon, the baby, was looking directly at the camera with his stunning eyes.
"Moments happen and I sometimes share. I'm not going to doll my children up for perception or anyone's approval on here. If that's what you want to see then this is not the page for you. Real life over here," wrote Ayesha.
Stephen and his wife have welcomed three children to the world so far: daughters Riley and three-year-old Ryan, and four-month-old son Canon.
Please fill in your e-mail so we can share with you our top stories!