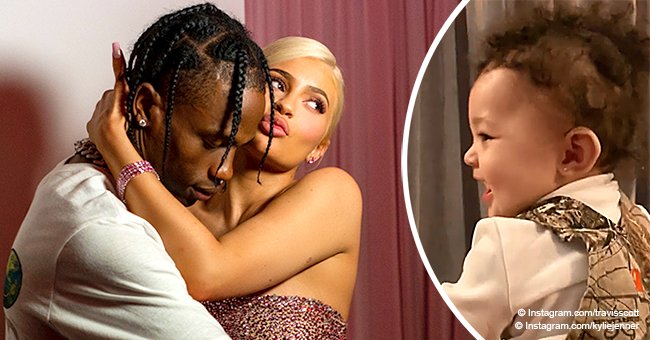 Kylie Jenner's baby Stormi dances along to dad Travis Scott's performance while watching him on TV
Baby Stormi Webster is only nine-months-old, but she's already her father's number one fan. Recent clips shared by Travis Scott on Instagram show the adorable baby dancing excitedly as she sees her dad on the screen.
Travis Scott just celebrated his first show at the Madison Square Garden as part of his "Astroworld Tour," and his girlfriend Kylie Jenner, and daughter Stormi were there to show their support for the rapper.
The 26-year-old rapper took to Instagram on Tuesday to share two adorable clips of Stormi having the best time of her life backstage at his concert. The toddler rocked a camouflage dungaree and a white turtleneck underneath while dancing, bouncing and squealing in delight watching "dada" on a monitor in her waiting room.
"MSG ALL RAGERS INCLUDED," Scott captioned the post.
Fans melted with the adorable footage, as most of them agree Stormi is definitely a "daddy's girl," like Kylie Jenner said in a Snapchat Q&A a few weeks ago. "Omg, I can't take it. She's like 'goooo daddy goooo,'" wrote one user. Another added, "Awwwww ..she knows her daddy. I love her."
LIFE ON THE ROAD
Stormi and her almost billionaire mom have been joining Scott on the road for the past weeks. He revealed to E! News last week what is like for him to be raising his daughter while being on the road making his dreams come true.
"I keep Stormi on the road, she's got her own dressing room vibe, got her own bus vibe," he revealed, adding that as a new father, he's just happy to fulfill his "life goal" while having Stormi be "a part of what I'm living."
"It's so hard, because I grew up in a different household where I never had a nanny or anything like that—my parents were never on a tour—so being able to do that and figure it out at 26, it's like hard, but when you're going through it, it's like, 'Oh this is dope.'"
And while Travis is a very hands-on dad, he mostly leaves the diaper changing to Kylie. "I've done it a couple of times, since it's my daughter," said Scott. "I kind of let her mom do that. She's really on it with the changing diapers."
DADDY'S GIRL
But even if Scott doesn't like the dirty work, he loves his daughter, and the feeling is mutual.
Just a few days ago, Jenner posted a video of Stormi playing around with a makeup palette as the 21-year-old tried to teach her some new words. Specifically, she wanted the girl to say "Kylie Cosmetics."
But after babbling around, Stormi settled for saying "dada" while giggling cutely at her mother's surprise. Scott on the other hand, commented on the post, assuring his girls that he was on his way back home.
The family is planning to spend Christmas together, as Scott's last concert of the tour will take place on December 22. He told E! that he will be twinning with Kylie and Stormi on their Christmas Eve pajamas.
"Last Christmas it wasn't my thing, but we did it for this other holiday, and it was kind of cool, and we recently did it for Halloween. When you get a girlfriend you just start liking all types of stuff," he said.
Please fill in your e-mail so we can share with you our top stories!