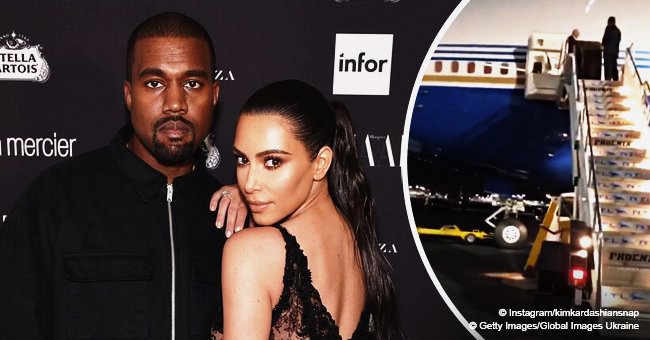 Kim Kardashian & Kanye West dragged after taking 'obnoxious' private flight on an entire Boeing 747

Kim Kardashian and Kanye West left their fans appalled after they boarded a Boeing 747 to fly to an undisclosed destination, filled with just their family.
The 38-year-old reality TV personality took a video of herself touring the plane, as it was her first-time on-board a 747. She even showed off her 41-year-old husband's office in the sky, which boasted of several bedrooms and a luxurious dining area.
While some fans were envious of the way they get to live their lives in luxury, many were also sickened by their lack of care for the environment.
It is unclear whether or not the plane was chartered for the rapper's promotional tour of his Yeezy line, but Daily Mail UK hints that the plane was chartered through Aura Jets or services by the Atlantic Aviation Company. Either way, a flight on a large jet similar to that of the Boeing 747 is estimated to cost $2000 per person, with a requirement of at least 150 people onboard. This rate would also vary depending on the flight time and distance.
This particular Boeing 747 can accommodate up to 660 people in a high-density one-class scheme. However, with Kim and Kanye only bringing along their children, a handful of staff, and a personal trainer, there is no way they could have boarded that many people.
However, regardless of how luxurious their whole trip was, people were quick to throw some angry reacts at the family, for using the same carbon footprint supposedly for 660 people.
Fans on Instagram said that their whole trip was so "wasteful", and that they have left a larger carbon footprint than they need to.
"@sam_durham: @KimKardashian @kanyewest renting an entire 747 for themselves is so unbelievably wasteful it makes me sick. Leaving a much larger carbon footprint than they need to. You have the power and wealth to travel sustainably, and instead you do the opposite.For what? An instagram flex?"
"@ElinevDoninck: Dear @KimKardashian & @kanyewest. You just boarded a private(!)747 for a 'long flight'. How much did it cost you, 2-3 million dollars? Maybe it would be fair if you donated an equivalent amount to help the climate recover from the several hundred tonnes(!) of CO2 you just caused."
However, there were also some fans who shared how envious they were of the type of lifestyle the Kardashian-Wests live.
"[I] refuse to get on a Ryanair flight ever again after seeing Kim Kardashian's latest insta story. Private 747 from now on please."
"Watching Kim Kardashian's Instagram story of her private 747 while I sit in my unassigned Southwest seat because I'm a masochist!!"
After the whole tour, Kim revealed that the plane was rented out by "Team Adidas" for Kanye's Yeezy brand.
Please fill in your e-mail so we can share with you our top stories!