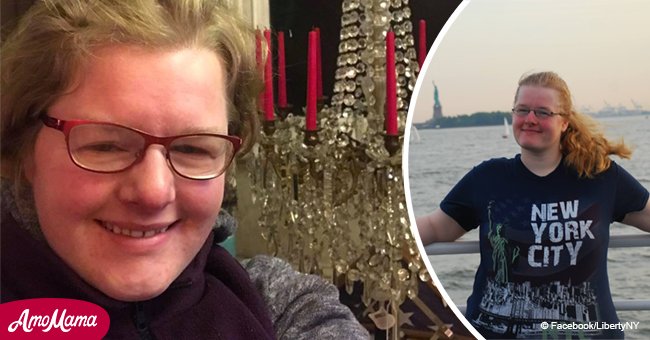 Woman 'engaged' to a chandelier got a tattoo of 91-year-old 'partner of her dreams'
Amanda Liberty got "engaged" to her beloved chandelier that is 91 years old. Recently, she had a picture of the "partner of her dreams" tattooed on her arm.
A self-proclaimed objectum sexual – someone who is attracted to objects sexually – went straight to Alice Perrin, the star of "Tattoo Fixers," to get inked.
The entire process lasted for an hour and a half. Speaking about the experience, Liberty said she felt "nervous about the needle" at first.
But afterward, she was pleased to have an image of the chandelier, who she fondly calls Lumiere, permanently inked on her body.
Follow us on Twitter at AmoMama USA for more details and updates.
Speaking about the result, she said, "Lumiere also thought it was brilliant, she gave me the energy telling me it was great. She tells me when she doesn't like things but she really likes the tattoo."
Liberty first laid eyes on the chandelier on eBay. She claimed that it was love at first sight. The 34-year-old, who is based in Leeds, knew she had to get Lumiere.
Although, the chandelier was made in Germany and it is 28 inches wide. Bringing Lumiere over to the United Kingdom was not an easy process, but Liberty was determined to have it.
"I knew I needed to find a way to make her mine. I couldn't stop thinking about her and how beautiful she was - she has such a beautiful shape, and I could feel really amazing energy coming from her."
Liberty shared that her friend gave the name Lumiere after the talking candlestick in the movie, "Beauty and The Beast."
The proposal happened on Valentine's Day in 2017. Liberty popped the question to the chandelier. She said it was "to signify our long, lasting love."
Although she said she likes to shower Lumiere with cuddles and kisses, Liberty prefers to sleep with Jewel, a portable chandelier she also owns. All in all, Liberty has 25 chandeliers. Even though she is engaged to Lumiere, the woman said she is also in an "open relationship" with the others.
Chandeliers were not the first objects that Liberty fell in love with. She said she was 14 when she grew feelings for a drum kit.
A few years later, she fell in love with the Statue of Liberty. She went as far as changing her surname by deed poll to Liberty in 2010.
Because of her love for the iconic statue, Liberty traveled to the United States six times to see it. She also has tons of memorabilia in her living room. As for pet names, she calls the statue "Libby."
Liberty said she did love the famous monument but the "long distance between them left her lonely."
Please fill in your e-mail so we can share with you our top stories!