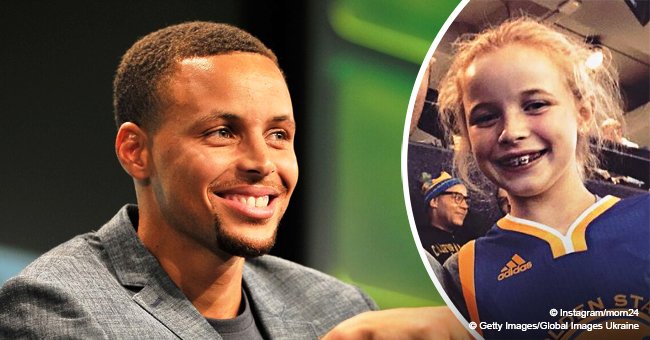 Steph Curry pens touching letter to 9-year-old girl after she asks why his shoes were only for boys
Riley Morrison, a nine-year-old girl from Napa, California, sent a letter to NBA player Stephen Curry concerned about not finding his Under Armour Curry 5's online in the Girls section.
The girl took a pen and a sheet to tell the Golden State Warriors' star that the basketball season in her home was about to start and that she asked her father to buy her a pair of Curry 5's (basketball shoes from Stephen's collaboration with Under Armour).
Unfortunately, Riley got disappointed when she couldn't find those shoes for sale under the Girls section but only on the Boys one.
"I know you support girl athletes because you have two daughters and you host an all girls basketball camp. I hope you can work with Under Armour to Change this because girls want to rock the Curry 5's too," finished Riley in her letter.
STEPHEN'S RESPONSE
Soon after girl's advice went viral, Stephen took to Twitter to share his handwritten reply. First, he thanked Riley's concern and admitted that he spent two days talking to Under Armour to fix the issue.
The NBA star confessed that they labeled smaller sizes as "boys" but that they would correct it. "I want to make sure you wear my kicks proudly – So I am going to send you a pair of Curry 5's now and you'll be one of the first kids to get the Curry 6," added Stephen.
Finally, he revealed that they were planning something special for International Women's Day on March 8 and he wanted Riley to celebrate with him. Stephen's response got a lot of positive messages on Twitter, saying that he was a role model and that more athletes should be like him.
THE COMPANY'S RESPONSE
Under Armour later updated its website to include Stephen's footwear in the Girls' section and pointed out that they had been offering the NBA player's signature shoes for both boys and girls since the initial Curry 1.
"However, labeling that youth sizing for 'Boys' and not designating for boys and girls, was simply wrong," Dean Stoyer, the vice president of Under Armour's global brand communications, told People.
STEPHEN'S ACCIDENT
The Under Armour issue took place only days after Stephen was involved in a multi-car crash in Oakland, California. One car spun and hit Stephen's car front, while a second one rear-ended him.
Thankfully, he walked away from the accident unharmed. Soon later, he took to Twitter to write, "Don't need any reminders but All the Time God is Great and God is Great all the time! Appreciate all the texts."
Please fill in your e-mail so we can share with you our top stories!