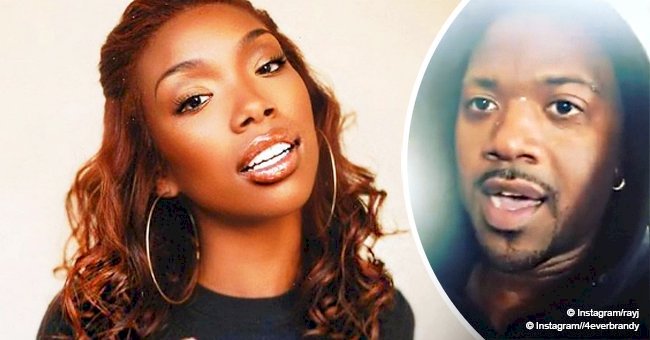 Brandy fires back at fan who slammed brother Ray J's music in recent post
Don't mess with Brandy or her brother, because she'll come for you with all she's got. One Instagram troll recently learned the hard way.
It all started when Brandy's brother, Ray J, took to the social media platform to update fans of "Love & Hip Hop Hollywood" about the proposed music album. He announced that the project has been "pushed back like a bad hairline" and blamed political reasons for the flop.
"Couldn't get the cast members on the same page. Couldn't get the business done right," continued the "I Hit It First" singer. "I was thinking about it like it was a compilation, everybody just kinda shine with the singles that's already out, but I guess everybody else had a different idea. So we're back to the drawing board. …Hopefully by next season, if there is a next season, then we'll have a music album."
An Instagram user then popped up in the comments with a mean remark:
"Nobody takes you serious when it comes to music bruh. But you make pretty babies."
Ray sent out a very mature reply: "I guess I should say thank you lol."
BRANDY'S WARNING
But Brandy was not about to go the same route as her 37-year-old sibling. The singer/actress held nothing back; she even included a not-so-subtle threat just in case anyone got confused:
"You will take him seriously. I promise you that. You know what they call me so you need to chill. Get off his page. - Ray J's sister."
Ray's wife, with whom he shares a six-month-old daughter, Melody, also clapped back at the troll, referring to her as "Nobody!"
BRANDY & PRINCESS AT WAR
Not too long ago, the two women coming to Ray's defense were at loggerheads with each other. Brandy and their mother, Sonja Norwood, were reportedly angry with Princess because she sent out a couple of tweets that seemed to imply Ray was cheating.
After a stand-off that ended in Princess telling them to stay out of it, Brandy and Sonja did not attend the couple's Ice-cream themed baby shower.
But all that has become water under the bridge, especially since the birth of Melody in May. Sonja was at the hospital when Princess was in labor and Brandy referred to her as "Sis" last month.
SISTER BEAR
Meanwhile, only a few weeks ago, Brandy shut down a troll who left her brother a nasty comment over the messy Kim Kardashian scandal.
Need any more proof that Brandy doesn't joke with her brother?
Please fill in your e-mail so we can share with you our top stories!