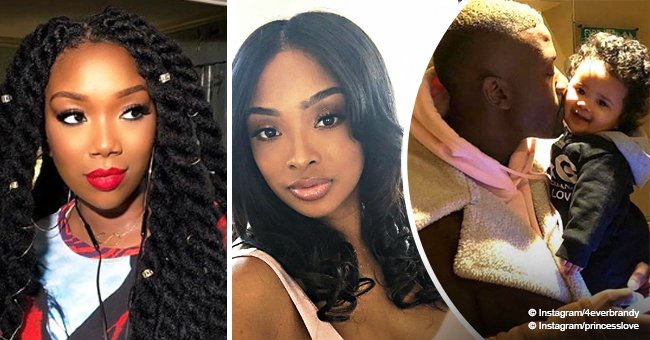 Brandy shares photo of Ray J & baby Melody, sends touching note to Princess Love after family feud
Brandy Norwood showed some love for her brother's little family on a recent Instagram pic. The singer mentioned Ray J's wife, Princess Love, and praised her for being such a good mom and wife, months after their family feud.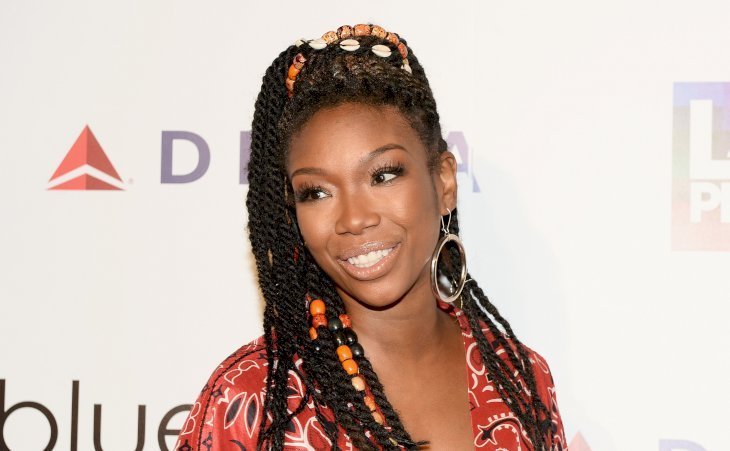 Source: GettyImages/Global Images of Ukraine
Norwood is the proud aunt of five-months-old Melody, the first daughter of her brother Ray J and his wife, Princess Love.
Ever since Melody's birth, Brandy has been gushing about the adorable tot on Instagram, regularly sharing pics of the baby and her parents.
One of her most recent posts features Ray J holding Melody on his arms and kissing her cheek. The girl looks adorable wearing a black hoodie, matching pants, and white sneakers while smiling softly for the camera, clearly comfortable by her daddy's ministrations.
Princess first shared the photo on her account, so, Brandy make sure to credit her sister-in-law's skills to capture the most adorable father-daughter moments on camera, as she captioned the pic:
"@princesslove sis, oh how I love how you catch the magic. You are a magical mother and wife and @RayJ, and @MelodyLoveNorwood are also #Magical and have each other in the palm of their hands...of course, I'm #ExtraForMyFam #ExtraOrdinary #ThisIsWhatLoveCanDo #God #TeeBeBe."
Fans were quick to catch on the fact that Brandy is complimenting Princess publicly even though the "Love & Hip Hop: Atlanta" star has abstained from posting or even mentioning anything related to her husband's family on social media in the last months.
While it seems like Brandy has moved on from the petty fight they had before Melody was born, Princess might be still holding a grudge against the Norwood family.
THE FAMILY FEUD
As seen on the VH1 reality show, "L&HH," Brandy and her mother, Sonja Norwood, were mad about Princess insinuating on social media that Ray J had been cheating on her while pregnant. Both Norwood women considered Princess' acts as a "character assassination" and demanded the model to make a public apology to Ray J.
However, the new mom asked in more or fewer words for Sonja and Brandy to mind their own businesses.
This led to the three women having a tense encounter at Princess and Ray J's gender reveal party, where Sonja told Princess that she would deal with her after Melody was born, and Brandy tried to school the model into being a "good example" for her daughter.
"Are you a good example to your daughter?" Princess fired back.
Sonja and Brandy ended up skipping Princess' baby shower, but the "Long Distance" singer did post a congratulatory message, expressing her excitement at being an aunt and apologizing for not making it to the party.
Princess then slammed Brandy, commenting: "STFU posting this, I should just post what you just texted me."
CLEARING THE AIR
Before Melody was born, Princess and Ray J tried to clear the air and all the rumors going around about the situation with the family on their visit to the radio program "The Breakfast Club."
There, radio host Charlamagne the God addressed the issue, asking Princess what had Brandy texted her that had her in rage. But Ray J jumped to the rescue, stating that it was just a "family issue" to which his wife added, "it was in the heat of the moment."
Ray explained that like all ordinary families, sometimes there's drama that stems from people not seeing eye to eye in certain situations, but because they're in the public eye "unfortunately it [gets] out in the press and everybody should have an opinion."
"It's just what people do sometimes, and you get back cool. Sometimes, everything isn't going to be all peachy clean. It's how you deal with the problem," he concluded.
While fans still have to see Princess Love reciprocating the attention, she's getting from her sister in law; some are hopeful about the two women finally burying the hatch and getting along for the sake of baby Melody.
Please fill in your e-mail so we can share with you our top stories!