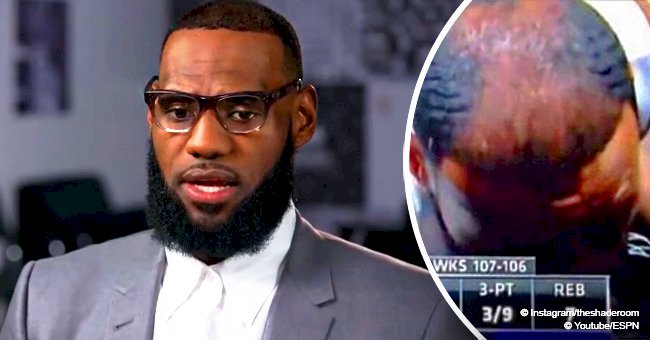 LeBron James gets clowned again after new photo of his bald spot went viral
Not even LeBron James, the NBA superstar, and Los Angeles Lakers latest representative, is safe from becoming a meme. His bald spot is giving people on social media a good laugh, as they match it to several different forms. The most recent one: Abraham Lincoln.
LeBron James is taking the L.A Lakers to the top with his unmatchable skills in the basketball court, but while most fans are often keeping their eyes on the ball on the televised games, there are others more worried about making the perfect screenshot of James' now-famous bald spot.
James' bald spot first became a meme back in April, when he was still playing with the Cleveland Cavaliers. Back then, both his fans and his opponents had a good laugh trying to match different shapes to James' hairline.
An atomic explosion, the Liberty Bell, and even Jesus were some of the craziest shapes people thought they saw on the baller's hair. Now, after months that meme died down, is back and stronger than ever.
The most recent figure found on LeBron's bald spot was shared by The Shade Room and has the internet losing it. It's a bust of Abraham Lincoln.
PEOPLE'S REACTIONS
People on the comment section of the gossip site took the time to defend James or advise him about a new hairstyle.
"Damn man, I think it's time to let it go good brotha. Your hair is gone it's time for the rest of it to go."- @doneisha_
"LeBron just go Jordan with it. What are you holding on to? It's never growing back." - @wisdom614
"No matter how hard ya try, the Lebron jokes are dead now it's almost 2019, and he's the kind. So, it doesn't matter, all we care is that he play ball and make it to the finals." - @famousglo1017
"He's still the goad; he opens schools…who cares about his hair?" - @j_thebeauty
James, of course, remains unbothered about the cruel jokes about his receding hairline. Instead, the 33-year-old NBA star and philanthropist is adding more and more businesses to his already big empire.
A NEW BUSINESS VENTURE
LeBron is already a shoe designer, school owner, executive producer, book author, MVP player and brand ambassador for many companies. Not to mention he's also a father of three and loving husband and son. And as if he hadn't enough on his plate, James is now adding a new wellness business to his extensive list of accomplishments.
He's the co-founder of "Ladder" alongside supermodel Cindy Crawford, actor Arnold Schwarzenegger, and pro-ski racer Lindsey Vonn.
The brand's goal is to empower people to reach their lifestyle goals by providing support and guidance from world-class advisors and experts. Their strategy is built around three approaches: content, community, and product.
According to Ladder's website, the idea of the brand was born after LeBron suffered severe cramping during the NBA finals in 2014. James and his trainer, Mike Mancias, struggled to find a nutrition product that meets James' requirements for "quality and safety," so they decided to work with a private lab to develop their own formula.
Please fill in your e-mail so we can share with you our top stories!