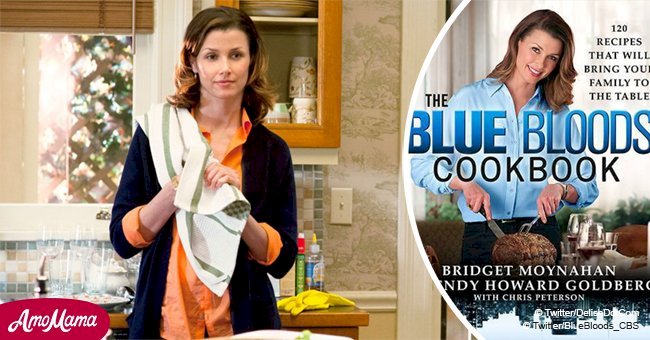 Did you know about Bridget Moynahan's cookbook? It has 120 recipes inspired by 'Blue Bloods'
Bridget Moynahan has written a cookbook with 120 recipes inspired by popular T.V show "Blue Bloods."
Fans of "Blue Bloods" know that the Reagan family meet for a family meal in every episode. During the meal, they discuss their personal lives and work.
In one episode, Jamie Reagan explained that the family meets up for supper because his grandmother grew up poor in a small town in Ireland when she moved to New York and got married she promised herself that "they would always have more than enough to eat."
Bridget Moynahan took inspiration from the iconic meals while she was penning her cookbook. She came up with a hundred and twenty recipes inspired by the show.
The family-inspired cookbook is filled with decadent comfort foods. The actress who plays Erin Reagan on " Blue Bloods" got the inspiration to use the show for her cookbook after they had glazed ham during one of the dinners on the show.
"We had a glazed ham for dinner once which inspired the one for the book. It was blend of sweet and salty. The glazed ham was irresistibly crispy. We could not stop picking the crispy bits off in between takes." said Moynahan in an interview
The book which launched in 2015, also includes a recipe for Manhattan clam chowder, Reagan-style pizza and a cheesecake with an "NYPD blue topping."
Moynahan credits her castmates for a number of recipes in her book. She said, "Every cast member gave a recipe."
"What's been nice about the cast is everyone's very different in the way they eat. Will is vegetarian. His recipe was completely different than everybody else's... it's much more of a meat-and-potatoes kind of cookbook." said Moynahan.
Bridget is clearly a talented home cook. She spends most of her free time away from sets whipping up delectable dishes for her son.
She shares eight-year-old Jake Moynahan with her ex-boyfriend, Tom Brady and his supermodel step-mom Gisele Bundchen.
However, while Moynahan might be cooking indulgent meals, her ex and his wife follow a strict plant-based diet that bans all white sugar, flour, coffee, dairy, gluten, non-organic produce, and iodized salt.
Please fill in your e-mail so we can share with you our top stories!