2-year-old girl with cancer needs extremely rare blood to save her life
A two-year-old girl from Florida is in dire need of a donation of an extremely rare blood type to save her life.
Doctors diagnosed Zainab Mughal with neuroblastoma, a nerve cell cancer, about two months ago. She now needs long-running blood transfusions to continue surviving.
Zainab underwent chemotherapy treatment which destroyed some blood cells. Those blood cells need to be restored. But the young girl's red blood cells don't have a common antigen, NBC reported. 
Follow us on Twitter for more @amomama.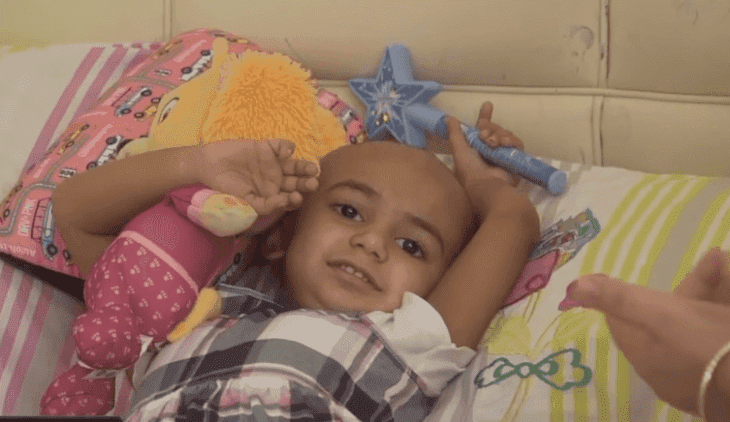 The antigen is called Indian B. If it is inserted into Zainab's body, it would be rejected. Thus far, none of her relatives was a match.
OneBlood, a Florida-based non-profit organization, is helping Zainab to find others who are missing the antigen.
Lab manager Frieda Bright said that the case "is so rare that honestly, this is the first time [she's] seen it in the 20 years [she's] been doing this."
Now. Join us on Facebook Live. OneBlood is leading a worldwide search to find extremely rare #blooddonors to help a two-year-old Florida girl battling #cancer.
Join us to find out if you or someone you know could be her match. https://t.co/A31VcyBEog pic.twitter.com/Ae72C0Z1in

— OneBlood (@my1blood) December 3, 2018
According to a statement from OneBlood, the "only people who could be a likely match for Zainab would be 'exclusively' of Pakistani, Indian or Iranian descent, meaning both parents of the donor must be 100 percent Pakistani, Indian or Iranian."
Not only that but the less than four percent estimated potentials would have to be of blood type "O" or "A."
Zainab's parents are reaching out to the public for their help. Father Raheel Mughal pleaded:
"My daughter's life very much depends on the blood. So, please, donate the blood for my daughter."
Additionally, OneBlood has partnered with the American Rare Donor Program to further matches. So far, two individuals from the United States and one person from the United Kingdom have been matched with the young girl's blood type.
OneBlood's statement read:
"Zainab will need blood transfusions for the foreseeable future."
Bright explained:
"She's going to need to be completely supported by blood donations in order to survive the cancer treatment in order to kill this cancer."
OneBlood has set up a page to assist with the international search to find Zainab a match.
Source: YouTube/ ABC Action News
Meanwhile, another little girl who suffers from cancer was rewarded for her strength.
Izzy from Worcestershire, UK, was only one when doctors diagnosed her with leukemia. Her parents were thankful that Izzy's treatment was relatively stress-free.
Powerful photo captures newlywed parents carrying their cancer-stricken toddler after their hospital wedding: https://t.co/BVkK0FAmrH pic.twitter.com/cEe4vuXFfl

— Good Morning America (@GMA) January 20, 2017
Earlier this year, Izzy was rewarded for her battle with a Cancer Research UK Kids & Teens Star Award. The prize is for all children, around 150 yearly, who endure cancer in Worcestershire and the West Midlands.
It's a relief to hear that the two little girls are on their way to beating cancer. But another woman is looking to the public for help as she battles leukemia.
December 3, 2018
Susie Rabaca, 36, needs a bone marrow donation by December 6. That's the date she is due to give birth to twins.
The desperate mother pleaded in a video for a half-Latino half-Caucasian person to step forward and assist her. No one in the registry is a match to her.
Woman Pregnant with Twins and Fighting Leukemia Makes Desperate Plea for Bone Marrow Donor https://t.co/bSJYUlPMGM

— People (@people) November 27, 2018
While she waits, Rabaca is leaning on her family for support. She has also opened a website called Be The Match for persons who believe they might be able to help her.