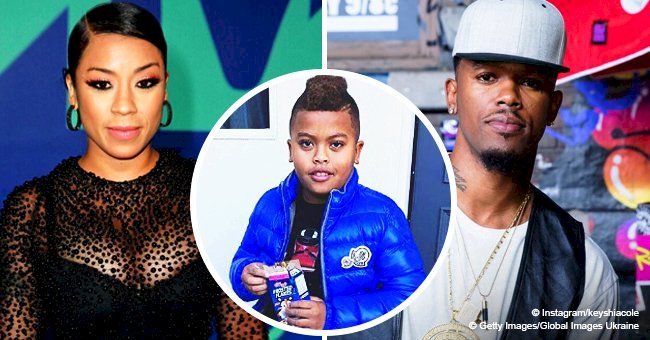 Keyshia Cole shares adorable photos of her and Daniel Gibson's son, 8, with cute new hairstyle

Keyshia Cole's little man is not so little anymore, and he's making that clear with a trendy new hairstyle that fans can't get enough of.
The singer/reality star took to Instagram yesterday with adorable photos of her son, Daniel Gibson Jr. – fondly called DJ. The eight-year-old looked handsome in a puffy blue jacket and matching pants. He also rocked a black t-shirt and two-color sneakers.
DJ kept busy, eating from a box of cereal, but fans in the comment section were more concerned with his new Mohawk hairstyle and how big he's grown.
"Wow. He grow up so fast and handsome."
"He's getting so big. So adorable. He just reminded me that I can eat out of those boxes. Being an adult has made me forget."
"Wow…seems like yesterday you were pregnant with him. The joys of being a parent!"
KEYSHIA'S BIG BOY
DJ turned 8 in March, and the "I Changed My Mind" singer marked the occasion with some adorable photos and a lovely message.
"Happy Birthday to my angel on [earth] OMG!!! YOU'RE the BIG 8 Man, time sure does fly," she wrote. "I love you with ALL MY HEART! Now I gotta come up with a new nickname cause #Munchkin #HoneyBunny and #DoDaBay ain't cutting it no more #Happy BDay Love Button party gonna be lit tomorrow for sure!!!!!!!"
CO-PARENTING SUCCESS & A WEIRD ARRANGEMENT
Despite getting divorced from DJ's father, Daniel "Booby" Gibson last year, Cole and the former NBA player have been able to co-parent successfully, and she continually credits him as a great father to their son.
The singer even raised eyebrows when she revealed on "Love & Hip Hop: Hollywood" that she and Booby were still living together.
KEYSHIA'S REASON
She justified the peculiar decision to E! News last year, citing DJ's wellbeing and Booby's financial troubles as the reason for their living arrangements.
"I didn't know my biological father growing up, so it's kind of a strong, emotional situation for me," said Cole, 37. "I want DJ to have everything that I didn't. It's not about me and him at this point. My son is 7. He needs his father."
She added:
"Daniel is going through some financial things and I feel like you know what– we're co-parents. If I can help, I would want him to do it for me if I were in that predicament. And all that matters is that DJ is there with them and we get to see him."
NEW MAN
It's not sure whether Cole and her ex still have the same arrangement, but the "Unbothered" singer is currently dating 22-year-old music artist, Niko Khale, and the two seem to be going strong.
To celebrate their birthdays in October, Cole and Khale enjoyed a luxurious vacation with dolphins and made sure to keep their fans updated on social media.
Please fill in your e-mail so we can share with you our top stories!