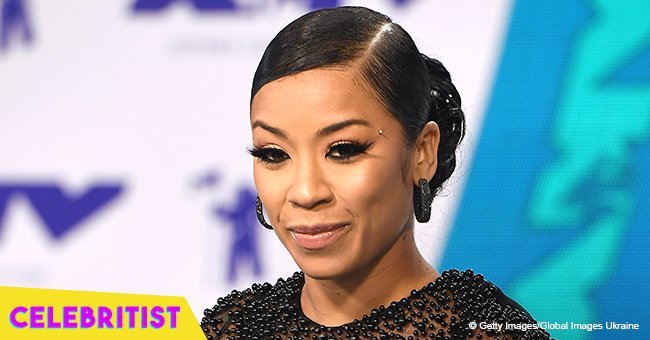 Keyshia Cole & much younger boyfriend look so happy while vibing to Sade's song in video

R&B singer, Keyshia Cole and her much younger boyfriend, Niko Khale, are living their best lives and shouting it from the rooftops. It appears Cole still does not care what people have to say about her love life.
The two lovebirds were sighted in a video which Khale posted on his Instagram account. Twinning in white T-shirts, the pair sang along to Sade Adu's famous track, "No Ordinary Love." And just in case anyone didn't get the message, Khale, who donned a black snapback, replicated the track title as his caption.
THE HEART WANTS WHAT THE HEART WANTS
Cole, 36, earlier stressed that she didn't care for folks getting judgmental about her relationship with Khale, 22. The "I Should Have Cheated" hitmaker said:
"I gotta nurture what nurtures me."
GETTING BACK IN THE GAME
In an interview with the Breakfast Club last year, Cole confirmed she was dating again after her marriage of six years ended:
"Yeah. I mean, sorta yeah. …There is somebody but it's a slow kinda procedure with the whole getting to know each other thing and it takes time. People make mistakes and learn."
The pair went public with their love earlier this year and had since been trailed by mixed reactions from the public. While some are happy for Cole and Khale, others continue to point out the vast difference in their ages.
PREGNANCY RUMORS AND AN APOLOGY
The mom-of-one also angered some of her fans last month when she made a fake pregnancy announcement in an Instagram post. In a subsequent apology, she explained why she misled her followers:
"I kinda apologize for #trolling… telling y'all I was #preggo. Buuuuuuut y'all need to stop body shamming me and saying I'm pregnant every other day."
IS KHALE AS SMITTEN TOO?
The "Love and Hip Hop: Hollywood" star may not be pregnant, but she's definitely full of love for her new man. The feeling is mutual too.
Khale's Instagram page is filled with pictures of his lady as they share their lives together. They were spotted two months ago enjoying a romantic date. The rapper wrote:
"She's a winner, She's the universe.. She need a real nigga she been thru the worst."
Cole was married to former NBA player, Daniel Gibson from 2011 to 2017. The exes share a son, Daniel Gibson, Jr.
Please fill in your e-mail so we can share with you our top stories!