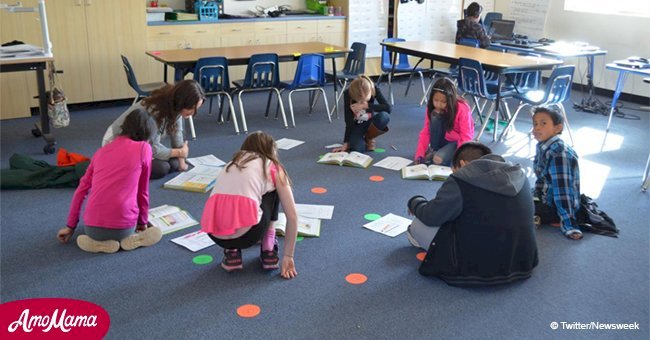 Teacher charged with сalling Native American teen 'bloody Indian'
A teacher suffered the consequences when she made use of racial slur and broke other rules of conduct with her students on Halloween.
McKenzie Johnson, a Native American junior at Cibola High School in Albuquerque spoke to the school district's board members about the incident that occurred in her Advanced Placement English class concerning their teacher, Mary Eastin.
Dressed up as Little Red Riding Hood, McKenzie entered Eastin's class on Halloween, who was dressed as the voodoo practitioner from New Orleans, Marie Laveau.T
he children entered a darkened classroom with lit candles where Eastin told the students to put their bags to the side and sit down, after which she showed them a YouTube clip about the infamous Marie Laveau.
Read more on our Twitter account @amomama_usa.
After the clip, she began asking students questions about the film and stated that if they answered correctly, they would receive a marshmallow if the students answered incorrectly they would get some dog food, which they refused to eat.
Eastin called upon a female Native American student, who was wearing her hair in braids, to answer a question. When the student failed to answer correctly, she asked if the student liked her braids before cutting the hair one off of her braids at the rubber band.
The teacher's attention then went to McKenzie as she recalled what happened:
"So she came to me, she put another flashlight on me, and she's like, 'What are you supposed to be?'"
Before McKenzie could say anything, the teacher remarked, "Oh, you must be bloody Indian."Mary Eastin then asked the class if her statement was offensive and dismissed class early.
The two juniors spoke with the school's Native American Club's advisor, who helped them report the incidents.
Eastin initially got put on paid leave, but after an investigation by the Albuquerque Public Schools, she got fired.APS issued a statement on Monday that said Mary Eastin got terminated as a teacher on November 30. Parents of students attending Cibola High School had also been notified that Eastin would not be returning to the school.
Monica Armenta, the district spokeswoman, said:
"Accordingly, she will no longer perform any work for APS. No additional information will be shared because personnel matters are confidential."
She also added that they would be seeking help with cultural competency training with local, state and national experts. Mary Eastin could not be reached for any comments on Tuesday.
The actions of another teacher are being investigated after being placed on administrative leave, following allegations of recording a student in the bathroom.
The school district's superintendent, Peter Marano, said in a statement that an investigation was underway after the teacher's suspension on November 9.
The teacher at Bellingham Memorial Middle School allegedly recorded a student while using the faculty bathroom.
Peter Marano went on to state:
"This individual was immediately removed from the classroom when the district learned of the alleged conduct, and we immediately contacted the police. We continue to remain committed to our efforts to ensure a safe learning environment for all students. Student safety is our highest priority."
Bellingham Police are asking anyone with information regarding the incident to contact them.
Osseo Senior High School in Minnesota is also under fire after a transgender student posted a video on November 28 that has since gone viral.
The video shows the teen sitting on the toilet while teachers tried to open the stall door, once the door got forced open a woman on her knees appeared while holding a crowbar.
Messages of shock and outrage followed at the situation and how it got handled. As reported by Yahoo, the school is supportive of most of the transgender's decisions and allow them to wear wigs and makeup.
Apparently, the reason for the violation stemmed from other students not feeling comfortable with this particular transgender student using the female bathroom, and happened after the school made provision for the student by having a private bathroom.
Please fill in your e-mail so we can share with you our top stories!